Gingerbread Houses, Creepy Country Roads, and Common Ground
In search of a little seasonal cheer learning how to make gingerbread houses, we almost didn't make it back home for the holidays.
My son was signed up for a Gingerbread House class in Salem, N.Y. Just 45 miles away on the map, it's a one and a half hour drive on winding rural roads; but I didn't mind. Rural New York is so picturesque, with its bucolic landscapes and charming historic homes. The drive back in the pitch black night; however, was a different story.
Early in the afternoon, I headed out with my son and mother-in-law in a sedan that I was warned was not equipped for treacherous conditions. Even a dusting of snow could set this car spinning out of control, but there was no alternative.
My trusty Chevy Suburban, the combat vehicle of choice, was in the shop after a mysterious severing of the fuel line forced a dangerous halt the previous night. In any case, the sedan did a fine job of getting us to our destination.
We arrived at the Battenkill Kitchen, more or less on time in the late afternoon, where Krissie Breen, a homeschool mom, had arranged a series of homeschool classes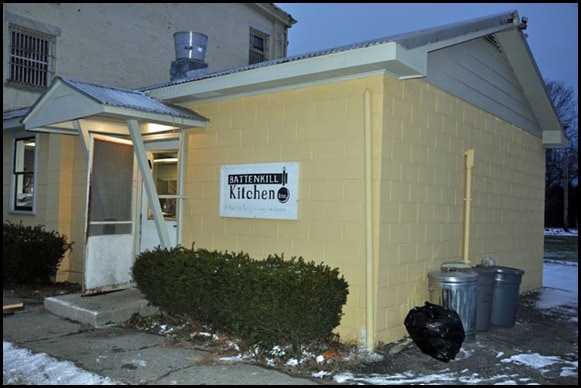 The Battenkill Kitchen is a professional kitchen that can be rented for classes and food processing. It's also a community kitchen that has generously offered the use of their facility at a discounted rate in order to support children in learning the life skill of cooking. (Note – The Gingerbread House class is the last in the current series.)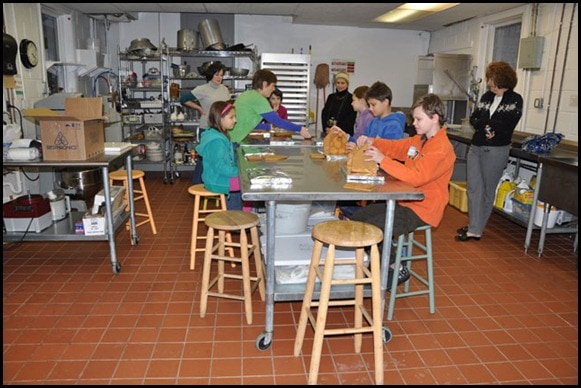 Krissie had arranged for a Gingerbread House class with Mandy Mayer of Rupert Rising Breads. Mandy makes beautiful gingerbread houses with her own children, and for charity each year. And as a school nurse, she has the patience and soothing manner to help children feel at ease.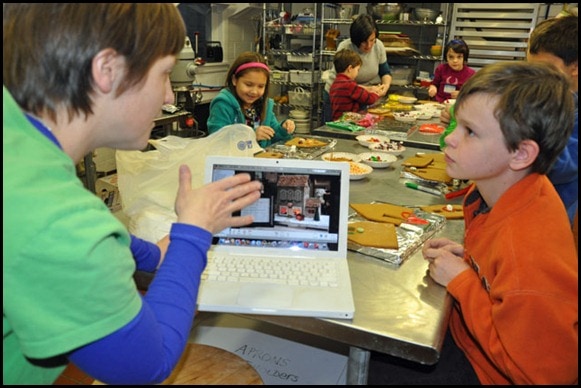 For the two-hour class, Mandy brought in a plywood stand, previously baked gingerbread house pieces, frosting mortar in Ziploc bags, and a plethora of decorative sweets (most of which ended up on the houses!)
After a brief introduction, the children started out by decorating the walls.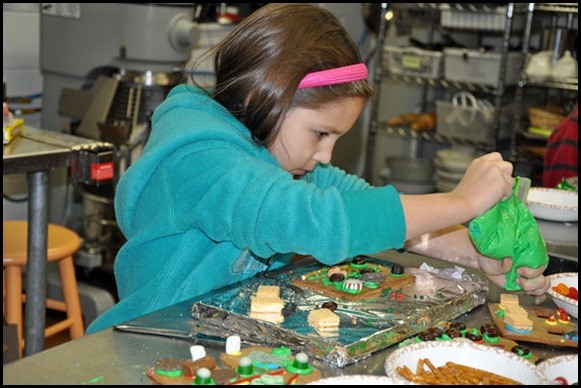 As they finished, Mandy helped the children mortar the walls upright. That's when she really impressed me by asking each child exactly what level of assistance they preferred, and letting them build the houses themselves (if they wished.)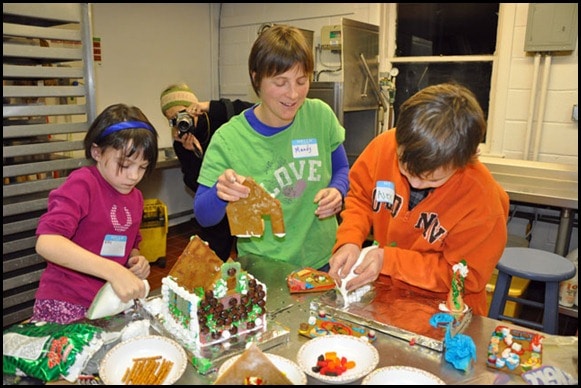 It took the full two hours, and a little overtime, to construct these marvelous Gingerbread Houses. At the end, it was wonderful to see the manifestation of the children's imagination. The level of detail was incredible: wreaths, paths, festooned trees, shrubs, and even a stocked Koi pond!

When the class ended, the scent of gingerbread and the occasional sweet nibble had awakened our appetite. I didn't relish the long drive back on an empty stomach, so we followed the recommendation of area residents to the Common Ground Café in Cambridge, N.Y.
A roaring fire and hot soup would have satisfied our needs, but this restaurant was an attraction in and of itself. I couldn't get over the hand-hewn décor, from the stone fireplace to the elaborate bathroom door pulley system.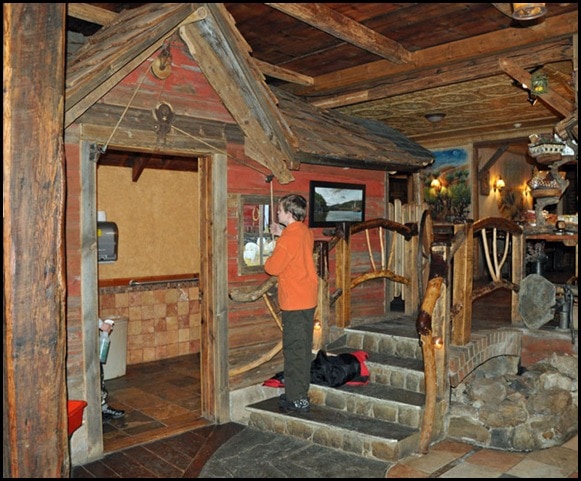 The budget-friendly menu choices are limited to soups, salads, sandwiches, and wraps. But, the ingredients are fresh and the recipes are as imaginative as the architecture. My cream of broccoli soup was rich and creamy, the salad featured crisp and flavorful greens, and I was too sated from these to even nibble on my tofu wrap until the next day.
Best of all, our table alcove made us feel as if we were in the land of Hobbits.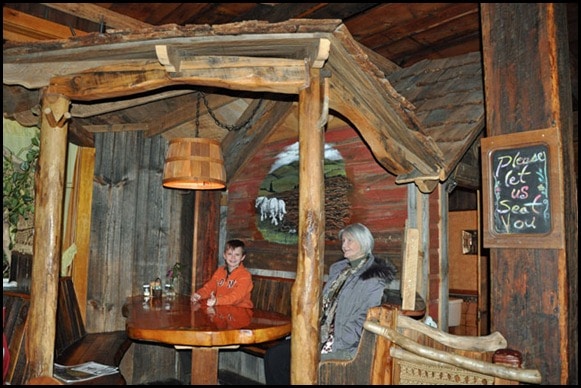 As we drove back, however, my mind kept wandering to the story of Hansel and Gretel. More than once, the Garmin Nuvi insisted that we depart the two-lane road for dirt roads, and in the dark, the pastoral turned creepy.
Surrounded by black night and barren forests, I couldn't help being a bit frightened. If I were of a paranoid inclination, I might have even been inclined to suspect dark designs. One night my car sputters to a halt with a severed fuel line, the next we're sent on creepy country roads by the Garmin Nuvi. It could have been the plot for a murder mystery.
We did eventually make our way home, safe and sound. Next time I venture on these roads, I won't be so quick to listen to Garmin Nuvi.
See more photos from this outing at Gingerbread Houses on Flickr.
Gingerbread House Recipes for Kids: