Fossils: Learn About Paleontology in Kansas with Kids
Not all of the destinations in our Read Across America Road Trip were pulled from fiction books; we also followed a story that is as old as our planet.
To support my son's fascination with paleontology, I included several stops mentioned in Cruisin' The Fossil Freeway: An Epoch Tale of a Scientist and an Artist on the Ultimate 5,000-Mile Paleo Road Trip by Kirk Johnson and illustrated by Ray Troll.
Oceanic Kansas
When I think of Kansas, I envision flat lands of wheat fields and prairies, and yes, we found these.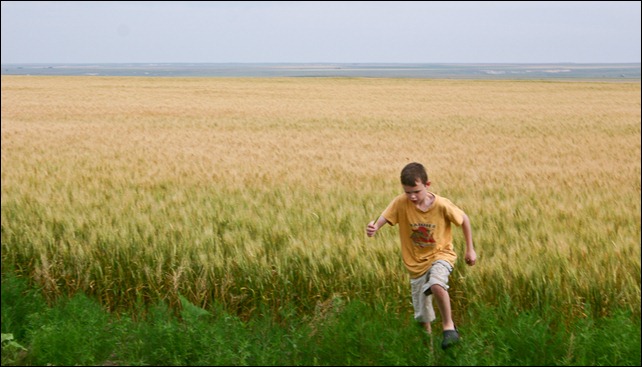 However, back in prehistoric times, this land was covered by a deep ocean brimming with marine life that has left a rich deposit of shells and fossils.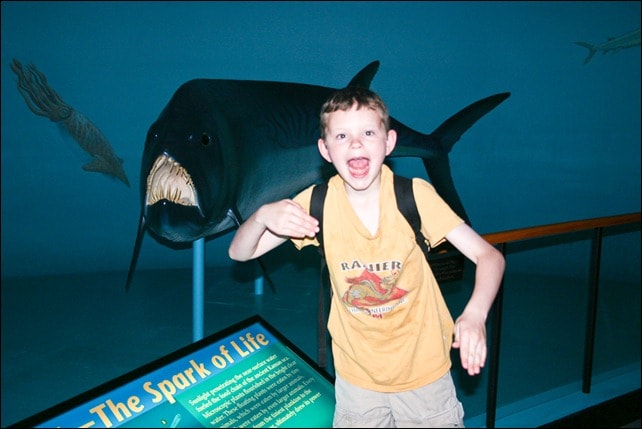 One Heck of a Hotel Bargain
We plunged into our visit with an overnight stay at the Hays, Kansas Ramada Convention Center, one of the best hotel bargains that we've found.
$50 per night for a room with two beds, in a hotel that features a pool with a 100′ Serpentine Slide, within sight of the friendly hotel bar/restaurant.  Fun for the kids – and the weary mom.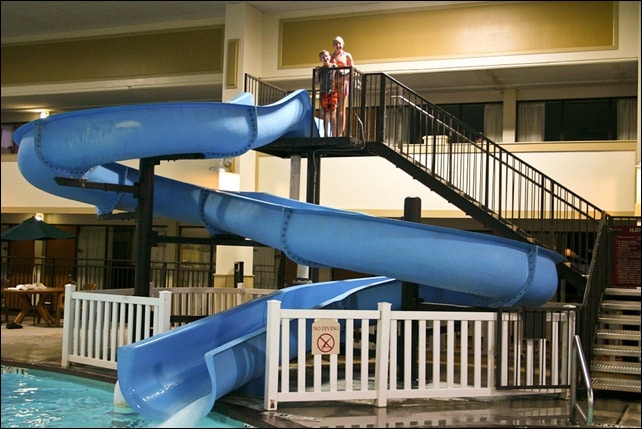 A Small, But Mighty, Museum
In the morning, we began our day at the Sternberg Museum of Natural History, a small museum with a mighty collection of some of the choicest fossils.  It's smallish size, and interactive exhibits, makes this a wonderful place to introduce children to paleontology.
After a short exploration of the hands-on stations in the Discovery Room, our fossil tour took us on a walk through a life-size diorama that truly captures the imagination.  OK, it captured some of our imaginations. Kayla thought it was a lovely spot for a nap, until the animatronic T-Rex roared and dipped his head in her direction.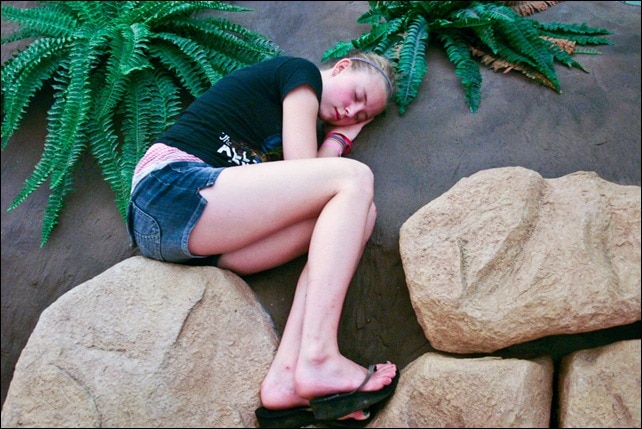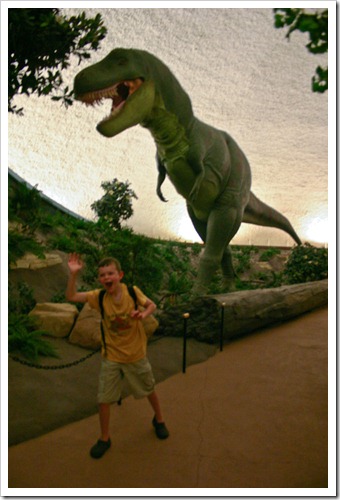 Fish-Within-A-Fish
It wasn't until we were at the Sternberg, that I realized why the Kansas digs mentioned in Cruisin' The Fossil Freeway, and the discovery of a fish-within-a-fish, looked so familiar.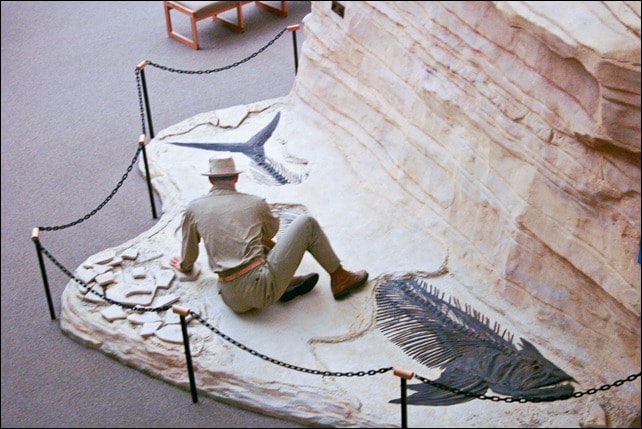 We had seen the same kind of mammoth fish fossil at the American Museum of Natural History in New York City, where we also watched the Imax movie, Sea Monsters: A Prehistoric Adventure that recounts the story of the fish-within-a-fish.
Now we were getting to see the celebrity fossil in person.  Pretty exciting stuff.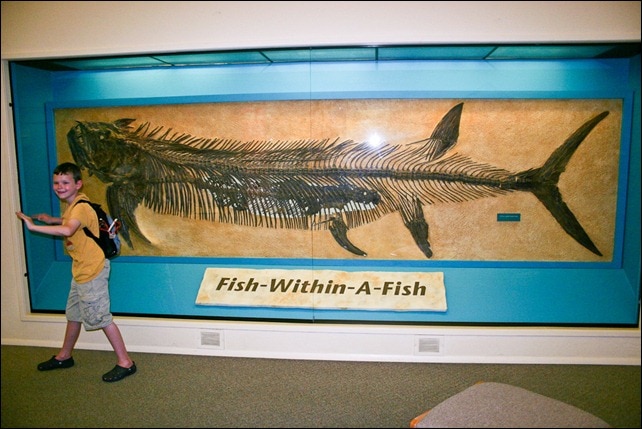 Pilgrimage to the Chalk Pyramids
Even better, we went right to the source – the actual site where the fish-within-a-fish was excavated, the Chalk Pyramids of Kansas, aka Monument Rocks.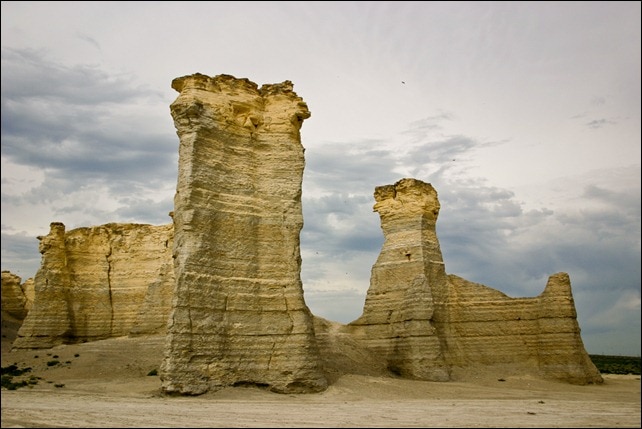 It's an off-the-beaten-path site, down a long, dirt road hidden in the midst of Kansas wheat fields, but well worth the visit.  Incredibly beautiful, especially in the golden glow of late afternoon, it's a lovely destination even if you're not in search of fossils.  But it's unlikely that you could miss finding a fossil as the rocks are liberally covered with ancient shells.
Nearby, just sufficiently far away from the monument rocks, Alex found a perfect place to start his own paleontological dig. He added his first fossil, a shell, to his new collection, fueling his desire to find more fossils.  Fortunately, the fossil freeway is a ubiquitous road.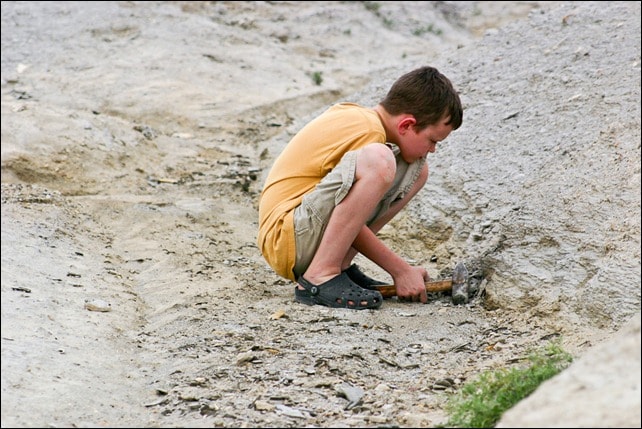 Related Article:
Read Across America Road Trip (2009):