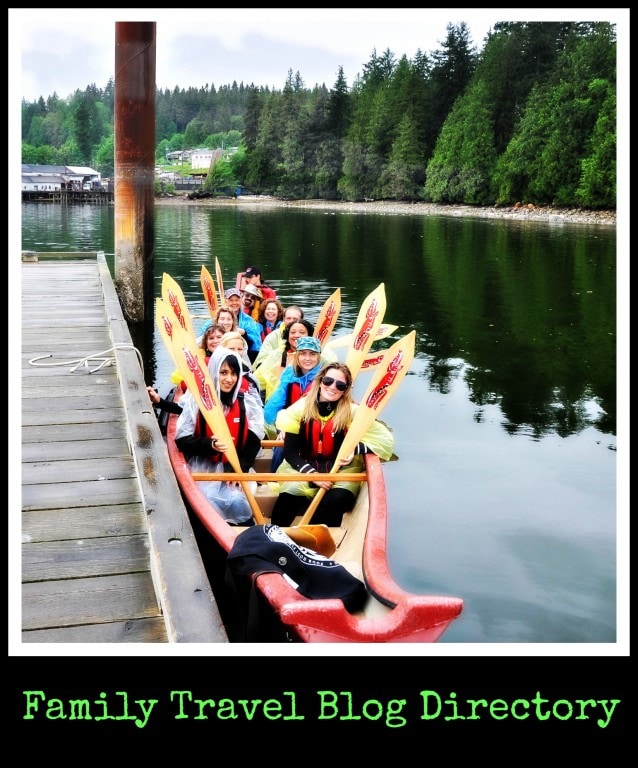 One of the best ways to experience a destination is to do so like a local. This is even more true when traveling with children. The more that you can slow down and live in the moment, the better. Family travel planned with the assistance of local experts is authentic, cheaper, less stressful, and more fun.
To help you find those local experts, I've compiled a list of family travel blogs, sorted by region.
Please note that this list is a work-in-progress. Where available, topics, hometowns, and regional expertise are included.
USA Family Travel Blogs, By State
ALABAMA
ALASKA
ARIZONA
TucsonTopia.com – Be in the know about where to go, what to do, and how to live your best life in Southern Arizona. Editor: Stephanie Sheaffer  Twitter: @TucsonTopia Also, find her on Metropolitan Mama – Family Travel, Food, & Fitness. @stephsday.
ARKANSAS
nwaMotherlode.com – local events in Northwest Arkansas. Editors: Gwen Rockwood and Shannon Magsam. Twitter: @nwaMotherlode
CALIFORNIA
COLORADO
CONNECTICUT
DELAWARE
The Mother of all Trips – family travel tips, information about vacation destinations, and family adventure stories. Editor: Mara Gorman @motherofalltrip
FLORIDA
PensacolawithKids.com – family-friendly places, activities, and events that take place in and around Pensacola, Florida. Editor: Jennifer Close @twokidsandamap
TropicHomeandFamily.com – online home for tropically-hearted moms, Florida travel and events, and fun things for kids and families. Editor: Holly A. @Tropic_of_Mom
GEORGIA
HAWAII
IDAHO
ILLINOIS
GoWestYoungMom.com – sharing family-friendly events and resources in the far western suburbs of Chicago, particularly the Fox Valley. Editor: Tara Burghart.
Suburban TravelingMom – useful and honest information for traveling families featuring destinations around the Midwest, Caribbean and North America. Editor: Jamie Bartosch @jsbartosch
INDIANA
ArrowsSentForth.com – sharing a mom's adventures with her two young sons. You'll find posts about far-off destinations, outings they take within an hour or two of home, and plenty of tips and tricks they learn along the way. Editor: Nicole Wiltrout @arrowssentforth
IndywithKids.com – emphasis on local travel in and around Indiana as well as travel destinations FOR Indiana families. Editor: Katy Mann @indywithkids Additional Regional Expertise: Southern California.
IOWA
KANSAS
KENTUCKY
StatebyStateTravel.com – featuring real life reviews of museums, parks, attractions and vacation destinations all over the United States.  Editor: Sharon Williams @statetravel
LOUISIANA
MAINE
MARYLAND
MASSACHUSETTS
FamilyTravelMagazine.com – family travel reviews and family travel tips for families planning a vacation with kids. Editor: Jodi Grundig (Natick, MA) @jodigrundig
MICHIGAN
Travel Mamas – printable packing lists, travel tips, giveaways and stories for anyone who wants to travel with children…and stay sane! Contributor: Gabe Miller @thetraveldaddy
WorkingTravelingMom.com – Tips and advice on family travel and vacations, as well as balancing work and family life. Editor: Teresa Shaw @teresashaw  Teresa also writes as Working TravelingMom on www.TravelingMom.com.
MINNESOTA
Minnemom.com – Family, travel, farming, Minnesota, good cheap fun, and a whole lot more.Editor: Linda Wolfgram Kramer @minnemom
TheVacationGals.com – expert advice on family travel, romantic escapes, girlfriend getaways, as well as general travel tips and gear reviews. Editors: Beth Blair (Minnesota); Jennifer Miner (Southern CA); Kara Williams (Aspen, CO);  Twitter: @TheVacationGals
MISSOURI
MONTANA
NEBRASKA
NEVADA
RockStarMomlv.com – sophisticated family travel + lifestyle resource for those who live in and visit Las Vegas with or without their little entourage. Editor: Stefanie Van Aken @RockStarMomLV
WanderingOff.com – kid-friendly adventures in Las Vegas and beyond. Editor: Sarah Vernetti @wandering_off
NEW HAMPSHIRE
NEW JERSEY
GirlGoneTravel.com – formerly NYCityMama, Carol Cain shares the passion of discovery in travel and food. Editor: Carol Cain Twitter @CarolACain
JerseyKids.net – guide to kid-friendly trips in the New Jersey & New York area…and beyond. Editor: Debbie Abrams Kaplan
100RoutesAcrossAmerica.com– family road trips, discovering the amazing, the quirky, the delicious, in New England and beyond. Editor: Shannon Entin Twitter: @shannonentin
NEW MEXICO
NEW YORK
NORTH CAROLINA
NORTH DAKOTA
OHIO
OKLAHOMA
OREGON
MommyTravels.net – lots of info on Portland, Oregon, Las Vegas, Nevada, Disney World, The Finger Lakes region of NY and more. Editor: Meagan Shamy (Portland, OR) @MommyTravels Meagan is also the Portland Expert for 10Best.com and the Military TMOM for TravelingMom.com.
PENNSYLVANIA
RHODE ISLAND
SOUTH CAROLINA
SOUTH DAKOTA
TENNESSEE
TEXAS
FamilyTravelEverythingEverywhere – believes that travel is an education for adults and children alike. Editor: Amy Moore (Fort Worth, Texas) @EverywhereAmy
RWeThereYetMom.com – Family fun adventures in Central Texas and beyond. Editor: Rebecca Darling (Austin, Texas) @rwethereyetmom
SuitcasesandSippycups.com – sharing the story of an average family with ordinary means making extraordinary memories one trip at a time. Editor: Jessica Bowers SCasesandSCups
UTAH
TipsforFamilytrips.com – believes that travel makes families stronger, smarter and happier. Editor: Allison Laypath (Salt Lake City, UT) @tips4familytrip
VERMONT
FindandGoSeek.net – Vermont's Insider Guide to Kid Friendly Fun. Editor: Dana Freeman @missmagpiefgs
VIRGINIA
Kidventurous – Family travel tips, advice and resources for parents that want to plan adventures for their children that are both educational and fun. Editor: Erin Gifford @kidventurous
WASHINGTON
CascadiaKids.com – unbiased recommendations, interviews with experts, destination guides and travel planning advice for family trips in Washington, Oregon and British Columbia. Editor: Lora Shinn @cascadiakids Lora also authored , "Northwest Kid Trips."
Walkingontravels.com – working through a very long list of Pacific Northwest sights and attractions when not exploring the world one trip at a time. Editor: Keryn Means  (Seattle) @walkingontravel
WildTalesof.com – Bringing up baby in a world of adventure; braving the skies, roads, rails, and water of the Pacific NW. Editor: Kate Spiller (Seattle) @wildtalesof
WEST VIRGINIA
WISCONSIN
WYOMING
WASHINGTON DC
AllOvertheMap.net – exploring food, art, customs, and nature.  Editors: Veronique Autphenne and Paige Conner Totaro @tweetthemap

AParentInSilverSpring.com – activities for kids in Washington, D.C. and resources for families everywhere. Editor: Jessica McFadden @JessicaMcFadd
BEYOND USA
CANADA
GlobetrottingMama.com – specializing in long term travel, world travel, family travel, mom travel. Editor: Heather Greenwood Davis (Toronto) @greenwooddavis
Travel Mamas – printable packing lists, travel tips, giveaways and stories for anyone who wants to travel with children…and stay sane! Contributor: Claudia Laroye (Vancouver) @travelling_mo; Contributor: Lisa Goodmurphy (Toronto) @GoneWithFamily; Contributor: Jody Robbins (Calgary) @Jody_Robbins
Travelswithbaggage.com – a guide to family-friend events and attractions around Calgary, the Canadian Rockies (including Banff) and other Canadian and international destinations. Editor: Jody Robbins @Jody_Robbins
CARIBBEAN
CENTRAL AMERICA
TravelEXperta.com – advice, tips, recommendations on where to eat, stay and play with your family and kids in Central America. Editor: Marina Kuperman Villatoro @Marinavillatoro Additional Regional Specializations: Cuba and Florida
FRANCE
AnnieAndre.com – aka Practical Adventure-ology, helping families and couples learn how to take a career break to pursue their dreams and travel. Editor: Annie Andre (South of France) Twitter: @AnnieAndreHacks
NETHERLANDS
TheThreeUnder.com – Expat life; family travel in Europe with multiple young children (under 4.) Editor: Farrah Ritter @Momofthreeunder
Travel Mamas – printable packing lists, travel tips, giveaways and stories for anyone who wants to travel with children…and stay sane! Contributor: Farrah Ritter @Momofthreeunder
NORWAY
ToDestinationUnknown.com – outdoor life in Norway and adventures in Europe and further afield with a toddler and a husband in tow. Editor: Satu Vänskä-Westgarth @SatuVW
ROUND THE WORLD
Laugh-Quotes.com – American expats, living in New Zealand and laughing their way around the globe. Editor: Rhonda Albom @Laugh_Quotes
TravelwithBender.com – Fun tips on the best places to take your young kids on holiday from a real Aussie family traveling around the world. Editor: Erin Bender @TravelwitBender
Interested in appearing on this list? Email an introduction to sandrafoyt (at) gmail.com. Are you a brand or destination marketing organization looking for a family travel writer with other areas of expertise? We welcome requests and questions on the Family Travel Media Linkedin Group.  
Find Family Travel Blogs on Social Networks: