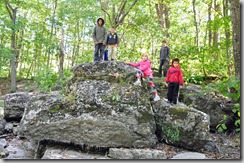 Fall is a splendid time to introduce children to nature, but it can be scary to take kids on their first outing on your own. Luckily, there are several moms clubs that organize family-friendly hikes in the Capital Region.
On a crisp autumn day, we joined a Homeschool Hiking Group on its inaugural hike to Hollyhock Hollow Sanctuary in Feura Bush. I'd never been there before, so it was a delight to explore this site with new friends. The hike itself was short and easy, making it an ideal place to introduce children to hiking. A short trail brought us to the banks of a dry creek bed where the adults chatted while the kids explored and played. Even my too-cool-for-his-own-good tween enjoyed climbing rocks and pretending to be a pirate. And I enjoyed chatting with adults while soaking in the sun on a beautiful fall day.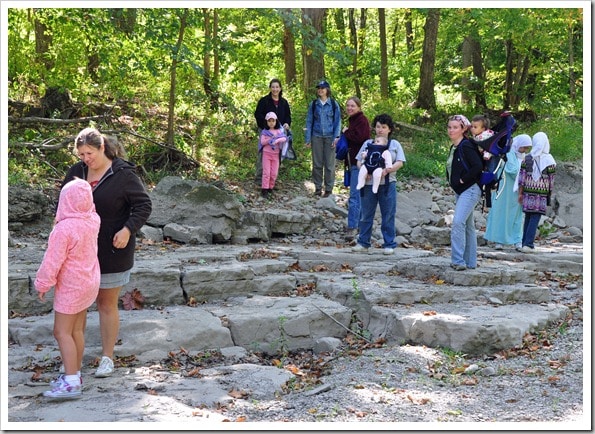 Plan a Family-Friendly Hike in the Capital Region
Find a group hike led by experts on the New York State Parks Events Calendar which lists a variety of upcoming guided hikes that are suitable for all ages and abilities. A few Capital Region nature centers schedule family friendly hikes year round, and they also have group programs available upon request:
To plan your own hike, read Hiking Safety Rules That Save Lives and check one of several excellent books on New York trails. If hiking with young children, consider this list of local nature walks, with tips and trail descriptions for hiking:
Christman Sanctuary, Duanesburg, NY.
Hollyhock Hollow Sanctuary, Feura Bush, NY.
Lisha Kill Natural Area, Niskayuna, NY.
Albany Pine Bush, Albany, NY.
John Boyd Thatcher Park, Voorheesville, NY.
W. Powell Bird Sanctuary, Old Chatham, NY.
Peebles Island State Park.  Waterford, NY.
Emma Treadwell Thatcher Nature Center, Voorheesville, NY.
Five Rivers Environmental Education Center, Bethlehem, NY.

 Albany Kids Go Hiking
We love to hike with kids, and we've written a few articles about our adventures:
And so have our friends: