Evolution of a Road Warrior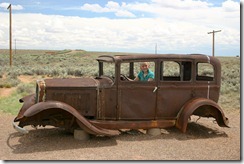 If it were up to my teenage daughter, we would replace my beloved Chevy Suburban with a $1000-or-less jalopy.
Experience and hard-earned wisdom tells me that that isn't the best way to resolve the family car dilemma. Car shopping for a family car that can handle outdoor adventures and adventurous road trips is never THAT easy.
Making The Decision to Go Car Shopping
We thought about keeping the Chevy Suburban a little longer, despite mounting repair bills. In the latest episode, our trusty steed received a grim diagnosis from the auto shop: $1100 to repair a faulty fuel tank and $600 to replace tires that would not pass the overdue NYS inspection. Nevertheless, swallowing the bill for auto repairs was a worthy option. Even at nearly ten-years-old and 160,000 miles, a Chevy Suburban is virtually indestructible.
I was reluctant to give up a car that had served me so well, giving me the confidence to travel alone with the kids into even to the most rugged and desolate corners of America. And yet, I had already come to terms with letting go. As much I love that feeling of invincibility at the helm of this hunk of steel, I couldn't justify the fuel bills or the environmental impact. Not when I'm no longer filling the car with kids, dogs, and the stuff they require.
Shopping for a new car was the right thing to do, but finding the right one would prove to be an odyssey worthy of Hercules.
The Cars That Came Before
My first car was a BMW, a generous gift from my grandfather, even if it was fifteen-years-old. The chocolate brown sedan featured cracked leather seats, with springs that found their way onto inconvenient places; it lacked any of the commonly accepted automotive comforts. Climate control was achieved by cranking windows, and that was just one aspect of the daily workout necessary to climb the steep hills of St. Thomas, adding immeasurably to the Virgin Islands' driving experience. If you have ever attempted to make a sharp turn without power-assist, you will understand why my 17-year-old self had toned arms resembling those of Linda Hamilton in Terminator.
My second car wasn't mine at all. The Honda Civic belonged to my father-in-law, but my husband-to-be and I appropriated it when we lived in Manhattan. Not so much for city living, but for weekend trips and weeklong vacations that more often than not found us rock climbing, mountain biking, or otherwise engaged in extreme sports in the Great Outdoors. Although we had no children at the time, somehow these outdoor adventures had us hauling enough gear that by the time we returned the hatchback it had acquired a prominent new feature – a splayed wheel chassis.
By the time we were ready for a family car, I knew that I wanted it to offer a little comfort and the ability to haul heavy gear.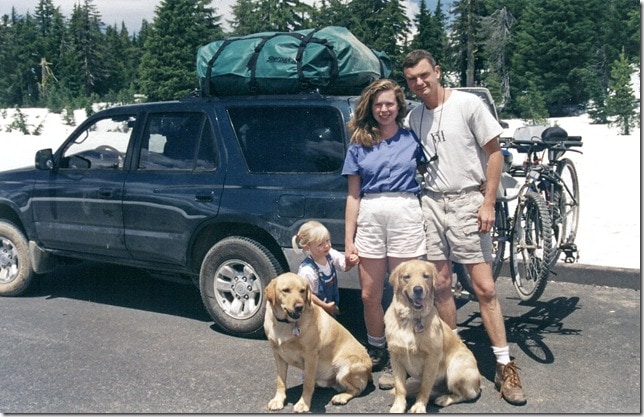 A Family Car for Outdoor Adventures
When my daughter was two-months-old, we left New York City for Southern California where my husband had signed up for a two-year surgical fellowship. And even though we had this tiny baby to consider, we knew that being new parents wouldn't keep us from wanting to go on outdoor adventures. We only had two years to explore every bit of the region, and we were determined to make the most of the opportunity.
While my husband bought a used Miata for his daily commute, we chose the very reliable Toyota 4Runner for our family car. A most excellent vehicle, it never balked at off-road terrain, although it taught me the value of ground clearance when one expedition left it with a permanently dinged fuel tank.
The Toyota 4Runner carried us well through our stint in California, and even across Canada when it was time for our move to New York. But it failed to thrive in the Northeast; a true California car, this SUV had rear-wheel drive, which is the worst possible set up for driving in snow. Once we moved into our current home, with its steeply inclined driveway, there was no choice. I needed a car that could handle snow; and it also had to be able to carry a full load of passengers as well as two dogs and gear in the rear.
The Chevy Suburban did that, but at at a cost. Fuel economy was a whopping 12 mpg in the city, and all of 16 mpg on the highway.
Our next family car will need to offer a little comfort, the ability to haul heavy gear, be able to handle snow; and it will do all this with less consumption of fuel. A tall order? Sure.
Stay tuned to find out how I found the perfect family car for living in the Northeast as well as adventurous road trips.
Car Shopping for Road Trips Series: