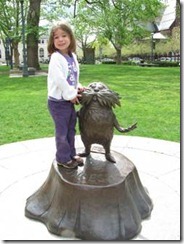 On a recent road trip to Massachusetts we took a break to let the kids, age 4 and 18 months, run around a bit at the Dr. Seuss National Memorial Sculpture Garden in Springfield, Massachusetts. Less than 10 minutes off Interstate 90, this beautiful tribute to Dr. Theodor Seuss Geisel, known to the world as Dr. Seuss, is a wonderful place to explore with young and old  alike.
The park is located on the Quadrangle Green that houses the D'Amour Museum of Fine Arts, the Connecticut Valley History, Springfield Science Museum and the George Walter Vincent Smith Art Museum. For more information on the Springfield Museums click HERE. The sculptures were created by Lark Grey Dimond-Cates, Seuss's step-daughter. There is a beautiful old cathedral adjacent to the gardens that serenaded us with hymnal organ music as we strolled through the park on a gorgeous sunny morning.
The gardens are comprised of various bronze caste statues of famous Dr. Seuss characters such as the Cat in the Hat, Yertle and Turtle, the Grinch and of course, the Lorax. Approaching the gardens from the Quadrangle Visitor's Center we first encountered one of my daughter's favorite Dr. Seuss characters, the Lorax.
True to the story, the Lorax was standing on a stump engraved with the word "unless". As we walked, and the kids picked up the pace to a jog, we came across a gigantic Horton the Elephant atop of an open story book.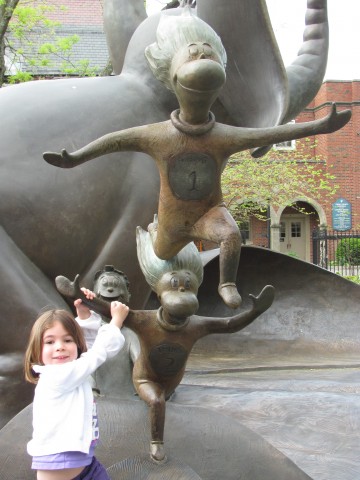 The multi-character sculpture includes Thing 1 and Thing 2, Sally and her brother, Green Eggs and Ham, Thidwick the Big Hearted Moose and other Seussian sculptures and whimsical backdrops.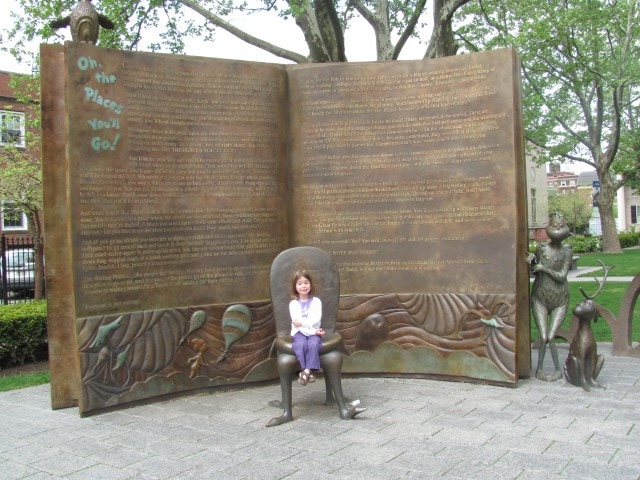 Walking the grounds brought up so many childhood memories of the stories I loved as a kid! It was amazing to see my 5 year old sprint around naming ALL of the characters with the pure joy of childhood exuding from her.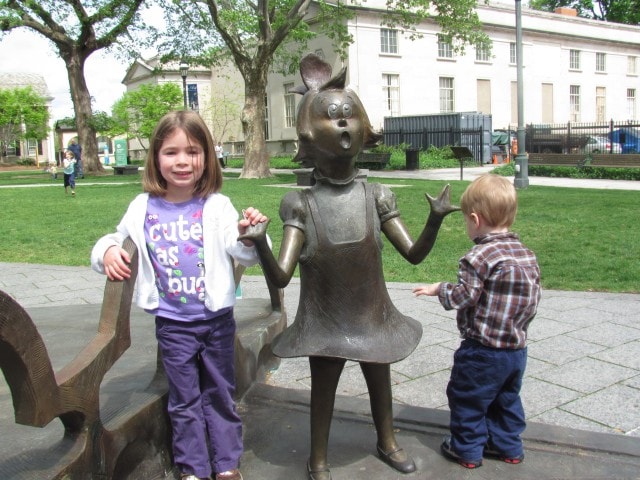 Also included is a sculpture of Dr. Seuss himself at his drawing board with his most well known characters – the Cat in the Hat.
My family's favorite part of this little adventure was the larger than life, Oh the Places You'll Go book, complete with the full text and a wonderfully oversized reading chair. Next to the book stands the Grinch and his pet dog and perched on top is our newest personal favorite, Gertrude McFuzz. We've been talking a lot in our house about being happy with what you have! As we were leaving we walked over to the far side of the park to see a towering pile of turtles from Yertle the Turtle located, as expected in a pond.
Go See It!
Dr. Seuss National Memorial Garden
21 Edwards Street Springfield, Massachusetts
www.catinthehat.org
Free parking and admission!