Dinner with the family at Ali Baba's Place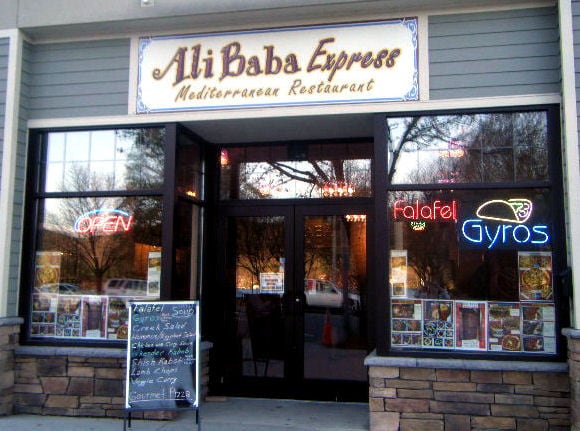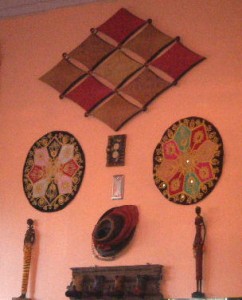 My son recently turned 16, a startling occasion in and of itself. He likes to explore new and unique things, especially in food, and has recently been favoring Mediterranean tastes. So it came to no surprise to me when I asked him what type of restaurant he would like to have his birthday dinner in that he replied "Greek".
Out came the handy dandy Urban Spoon app. I locked in Greek food, and that's when the surprise came. Turns out there is a Greek/Mediterranean/Turkish restaurant up in Lake George! Ali Baba's Express. My son was even more excited as he had never had Turkish food, and this was his big chance. Everywhere I looked, the reviews were great, and his birthday is well in advance of the tourist season, so let's go!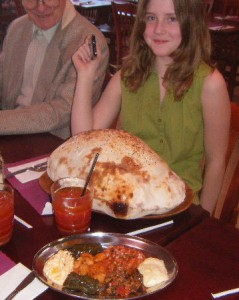 If you are familiar with Lake George, Ali Baba's is on Canada Street, or Route 9, the main street running North South through town. From the outside it looks similar to many of the pizza joints that are scattered throughout town, except that this one serves Gyros and Falafels. But inside it's another story.
Wooden tables, nice chairs, and authentic decorations transform an old pizza place into a small upscale bistro. The owners are Turkish and the casual atmosphere reflects that. The centerpiece of the entire restaurant is a floor to ceiling wood stove tiled in shades of red.
To start off the meal we ordered the Mixed Plate salad sampler, which included Humus, Stuffed Grape Leaves, Giant Lima Beans (my favorite), Ezme, Carrot Salad, and Eggplant Salad. This comes with Ali Baba's famous Lavash Bread, which I had read raves about on many of the reviews. It seems the owner has quite a sense of humor, as he set the bread right in front of my daughter, as if it was her meal for the night.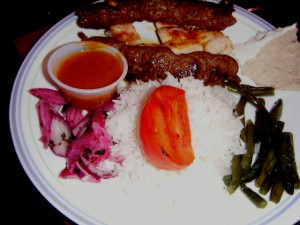 For his birthday dinner, my son chose Adana Kabob, a mix of ground beef and lamb. My daughter actually had a Cheese Pide (pronounced pita, but looks nothing one), and I had the Lamb Shisk.
The Adana Kabob and Lamb Shisk are served with rice, an incredibly tasty cold green bean dish, and an onion salad. I asked for mine without the onion salad, and found on my plate a traditional green lettuce salad. A perfect substitute. The meat of both meals was outstanding. Beautifully presented, and taste beyond comparison. Although I have not had Turkish cuisine before, lamb is one of my favorite meats.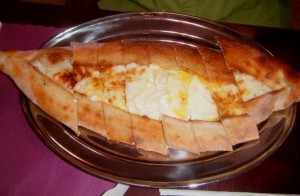 The Cheese Pide was rather unique. We had thought she was ordering a personal size pizza. We forgot to take into account the word 'traditional', as it says on the menu "Pides (personal sized traditional pizzas). Pides are shaped rather like a flattened football and contain cheese, possibly meat, and egg. Yes, egg on a pizza. While my daughter was less than thrilled with this concept, we brought the Cheese Pide home and enjoyed it very much warmed over for breakfast the next day.
Although the flavors may be a bit exotic for a 12 year old picky eater, I would recommend Ali Baba's Express to everyone. They do have larger, more traditional pizzas, sans eggs, along with gyros and felafels.  There's even Baklava for desert, although we were too full to try any.
For a complete menu, with pictures, go to http://web.me.com/alibabaexpress/www.alibabalakegeorge.com/Welcome.html