Crazy Canucks, Hot Mounties, and the Spirit of Canada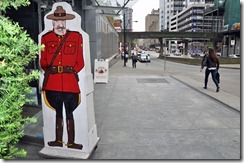 Solo travel may be good for the soul, but I questioned my sanity when I arrived in Vancouver, B.C. to find my street blocked off by an army of Canadian Mounties.*
Granville Street in Vancouver, B.C. had been blocked off for Game Four of the Stanley Cup playoffs, even though the game itself was taking place a continent away in Boston. Police forces, some bearing a remarkable resemblance to the studly cartoon figure, were in place to keep the roaming crowds from getting too rowdy – not always with great success.
Vancouver's obsession with hockey was unparalleled, but as one local resident who claimed indifference explained, "What can you expect when parents put not-walking-yet babes on ice and tell them, ""You're going to be a hockey player someday, eh?""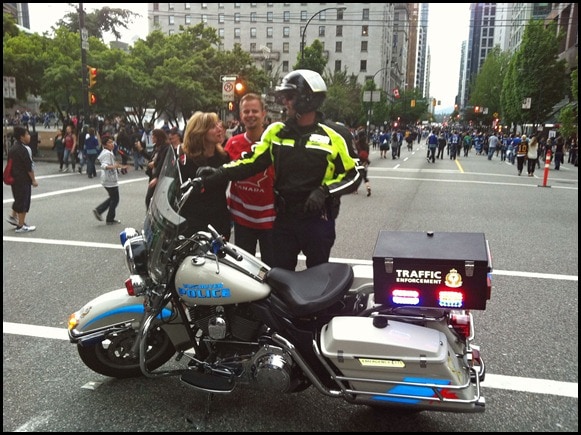 Was this the Spirit of Canada, and if not, what was?
My arrival was on a relatively tame game day. Later on, downtown Vancouver went on to celebrate a win with a city-wide carnival and a final loss with riots. Despite appearances, I never doubted that this was just one aspect of Canadian culture.
Dream Weavers
Before going to Vancouver, a friend, who happens to be a Canadian transplant, recommended that I research Emily Carr, the beloved Canadian painter who was one of the "first artists to attempt to capture the spirit of Canada in a modern style." (Wikipedia)
I tried to learn about her work at the Vancouver Art Gallery, which holds "the most extensive collection of the work of Canada's beloved Emily Carr."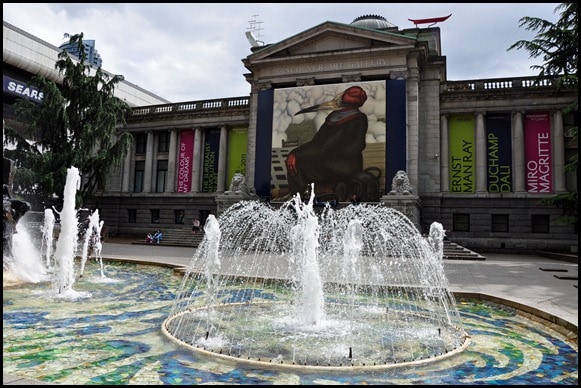 But on the night that I visited, most of the museum was closed off for a private party. Instead, I wandered for hours, completely enthralled by one current exhibit, The Colour of My Dreams: The Surrealist Revolution In Art (on view until the end of September.)
There I discovered that Surrealists, whom I had always thought of as being Euro-centered, were in fact deeply influenced by the aboriginal art of the Pacific Northwest. Disillusioned by the dissolution of European culture in the period between World Wars, "The Surrealists were drawn to the ""authentic"" quality, inventiveness of form and visual brilliance of First Nations art." (Exhibit) Interestingly, the museum exhibit displays a number of surrealist paintings juxtaposed with aboriginal masks and headdress pieces that seem to draw visually and thematically from the latter.
Did the Surrealists appreciate the spirit of Canada, whatever that is, and could that be found in paintings such as Edith Rimmington's The Oneiroscopist, 1947 (Seen here on a mural now gracing the exterior of the Vancouver Art Gallery.)
Trees, Totems, and Transformations
I continued my investigations on Granville Island, home of the Emily Carr University of Art & Design where I found the Bear and Eagle Totem Poles and workshop of Haida artist Clarence Mills and the curious stainless steel totem sculpture by i.e. creative team Cheryl Hamilton and Michael Vandermeer.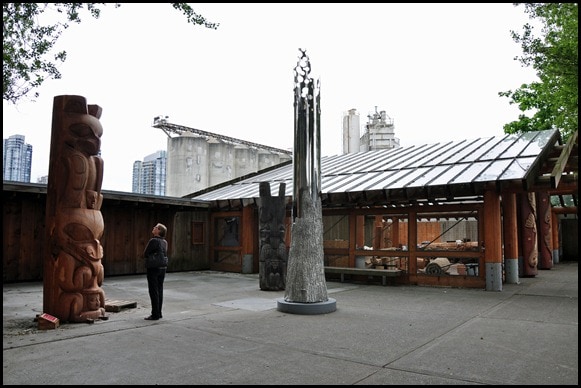 The workshop was closed but I snuck a peak inside to get a glimpse of the totem pole carving process.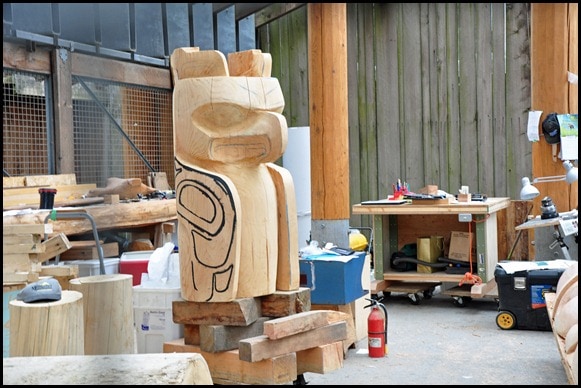 Stories In Cedar
These were not the first, nor the last, totem poles that I admired in Vancouver. I'm fascinated by these "stories in cedar" as Emily Carr dubbed her tribute to First Nation friends, Klee Wick.
And one of the best places to see an incredible display of the massive totem poles and other First Nation artwork is the Museum of Anthropology at the University of British Columbia.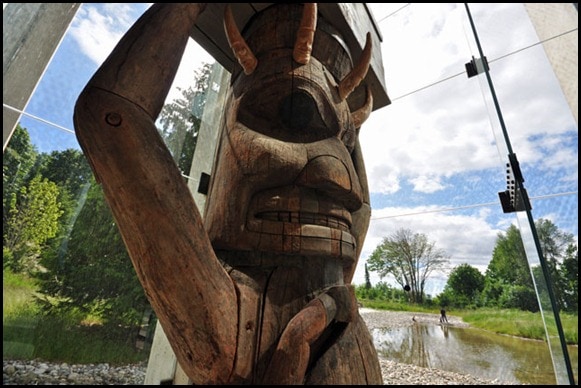 It's hard to visualize the sheer size of the totem poles, a number of which were used to hold up humongous multi-family homes, unless you are standing directly below, dwarfed by comparison.
But I was even more impressed by the feast bowls used at potlatches, the ceremonial gatherings of the indigenous peoples of the Pacific Northwest Coast. These fierce hand-carved wooden bowls are man-sized, one actually looks like it holds two people, and it's not hard to imagine them being utilized for gatherings of 300 to 4000.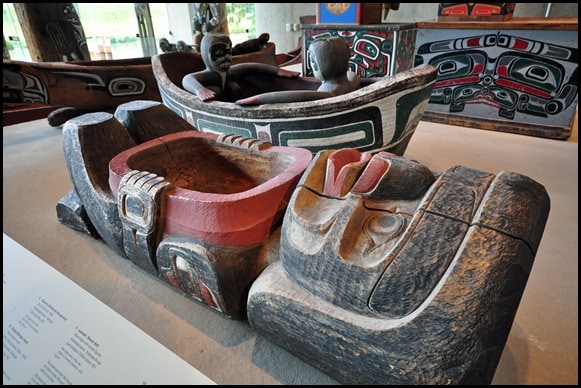 The practice and cultural values of the potlatches is fascinating, but for a dark period in Canadian history, they were banned. Yet as we learned on a Takaya Canoe Tour, First Nations peoples were not so easily marginalized.
For many years, when indigenous peoples were banned from gathering, canoe races gave them an opportunity to get around these restrictions. As a result, coastal peoples developed a rich tradition of canoe races that exists to this day.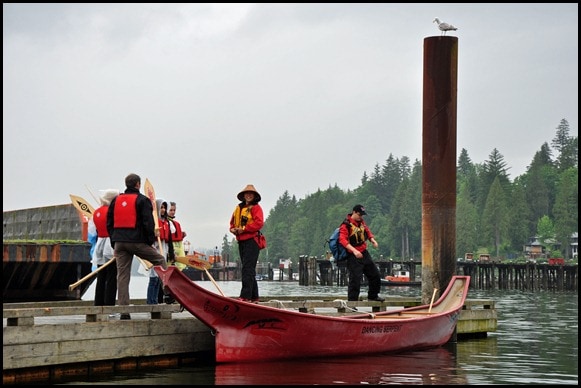 As our group of travel bloggers discovered, this is a challenging sport. It takes strength and endurance to keep the canoe going, and a great deal of balance.
Not that we were racing, ours was more of a leisurely canoe ride with many breaks to listen to our guide, Laura Leigh Paul, share the legends and songs of the Tsleil-Waututh ("slay-wah-tuth") peoples of the Wolf Clan.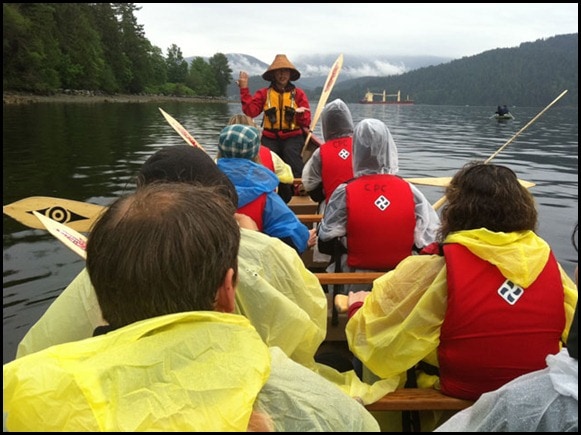 The stories were both magical and cautionary, and the act of canoeing in tandem a vivid reminder of the necessity of maintaining balance, and of respecting and caring for our natural world.
If you look closely at the photo above you will note both a pair of fishermen, and one of the oil tankers that docks at the Chevron oil refinery located on the bay. It's an uneasy truce, and one that requires vigilance.
What Is The Spirit of Canada?
In a week's visit, I've only scratched the surface of this Spirit of Canada. Is it stories carved in cedar? Is it about community? resilience? rebellion? an abiding appreciation of the natural world? My best guess is that it is all of these, and much more.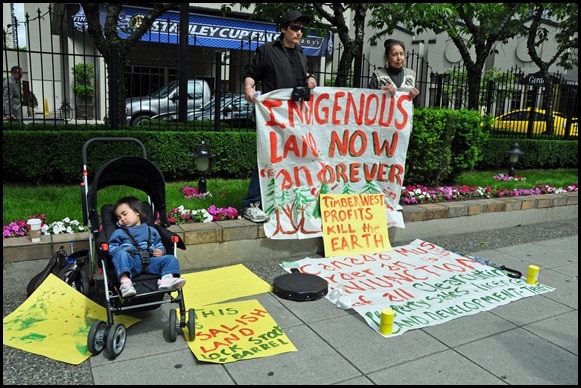 *For the sake of accuracy, Vancouver streets were not policed by the Royal Canadian Mounties, but since many policemen wore tall black boots with pants tucked in, there was a remarkable resemblance.
Disclosure: Two of the many perks of attending the TBEX (Travel Blog Exchange) Conference were the complimentary tour and  the Tourism Vancouver Media Experience Pass granting free admission to a number of area attractions.