Chinatown – A Fun Thing To Do With Kids In New York City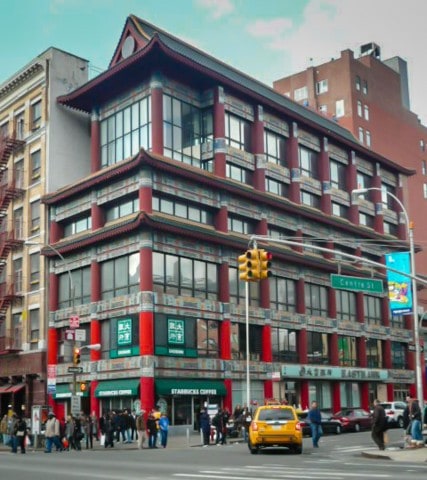 Chinatown in lower Manhattan is a great way to introduce children to America's diverse cultural heritage, and it's a fun thing to do with kids in New York City.
Never one to miss a golden opportunity to impart a lesson to my children, I took advantage of our visit to Chinatown in lower Manhattan to point out examples of Asian deference to elders.
"Kayla, Alex, look at those two woman, did you see the way the younger one is holding onto the other, helping her along on the street?  You know, in Asia, children are taught to respect their elders."
I probably repeated that about five times before they actually heard me, and boy, did I have cause to regret my efforts.  For the rest of the day, my smart-aleck son insisted on helping his "elderly" mom.
Although I failed to impart any important lessons, the kids and I thoroughly enjoyed exploring Manhattan's Chinatown.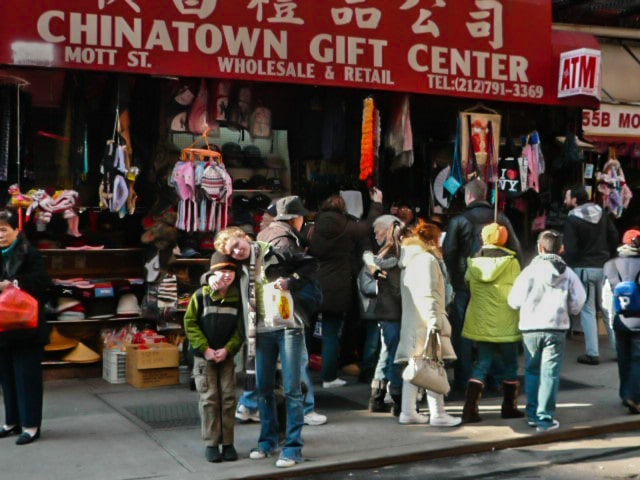 A Kid-Tested, Kid-Approved Chinatown Itinerary
After depositing the car in one of the parking garages on Mott Street (near Canal St.,) we headed straight to Ten Ren's Tea Time for a cup of bubble tea, a popular Asian drink loaded with tapioca pearls.
Having never tried this before, I wasn't sure what to request.  Turns out, you shouldn't just assume that you will get a hot, milky beverage.  The second time around, I asked for a "Hot, Almond Milk Tapioca Tea."  This is a delicious, filling drink that is a meal in itself; however, my kids didn't care for the chewiness of the black tapioca beads.
They preferred the dim sum at the Fay Da Bakery next door where big, steamed pork buns make a cheap meal (approx. $1.65 per bun.) Kayla and I devoured the pork and cabbage buns, but Alex went for the plain version which is basically an Asian hot dog.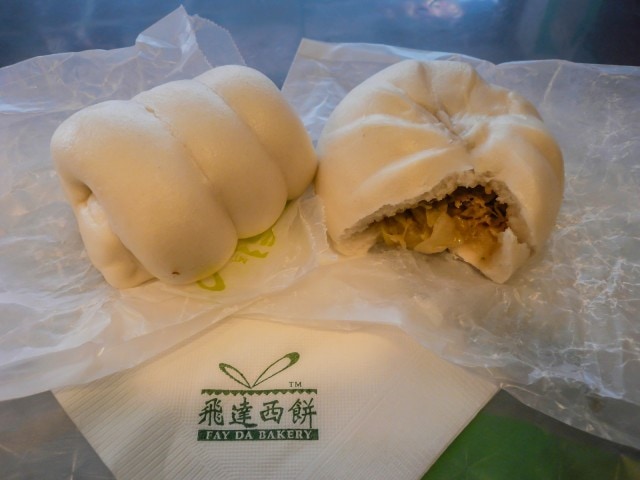 I could easily spend an entire day eating my way through Chinatown, but I find that it's best to break up the food sampling with a little exercise.
Fortunately, Chinatown is one of the few places where my family enjoys window shopping.  The exotic wares are always intriguing, and we can usually find worthwhile items that don't break the family budget.  Shopping in Chinatown can even be a good opportunity for the kids to practice budgeting skills (see Kids Tour Chinatown video!)
Kayla is on a mission to collect candy from all corners of the world, so we made it a point to enter the candy shops and grocery stores.  While she purchased mango candies and chocolate-filled golden Buddhas, we left unusual items such as dried sea cucumbers and shark fins untouched.
At the Chinatown Gift Center, the kids picked up pop rocks ($1/2 boxes) and squishy balls ($1 each.)  Both provided endless amusement, even attracting new friends when we visited Columbus Park.  While I watched men intent on Mahjong competitions, and women chatting over card games, Kayla and Alex dazzled a little girl with their squishy ball maneuvers.
If we had just ended the day's travels right there, we could've gone home well satisfied.  But, no, I was set on visiting two more shopping Meccas: Pearl Art, the 5-story cookie jar for artists; and Pearl River Mart, a treasure box of Asian home goods.  We picked up good quality art supplies and an array of specialty lunch boxes, as well as a couple of children's books.
Of course, by this time, Alex was complaining that he had had enough shopping to last him lifetime.  And, I still wanted to return to the Ten Ren Tea Shop for the traditional Chinese tea set ($18) and Oolong tea.  It's a good thing that I had parked on the same street as the tea shop!
We picked up the tea set, ate dinner across the street at Amazing 66, and drove back in time for a well-deserved early night's rest.
Tips For a Visit to Manhattan's Chinatown
Chinatown Map – Print out this handy Taste of Chinatown map.
What To Eat –
A Guide To Bakeries In Manhattan's Chinatown –  Illustrated guide and recommendations to some of the best food bargains in NY.
A Guide To Cheap Snacks In Manhattan's Chinatown – From food carts to take out.
A Guide To Soup Noodles in Manhattan's Chinatown – When you want a lighter meal, or comfort food, try the soup noodles.
On foot with kids, it's often easier to pick a restaurant based on what's convenient when the whining starts.  When that happens in Chinatown, I head for a restaurant that draws a local crowd.  That's how I found Amazing 66, a cheap, family-friendly restaurant where we enjoyed a meal for 3, with leftovers, for under $40.  Best bet for the kids: Sesame Chicken on a broccoli bed, dumplings, and spring rolls.
By the way, I haven't tried these yet, but I plan to come back to sample the many flavors of the highly recommended Chinatown Ice Cream Factory and the Egg Custard King Two Cafe.
Getting There – Since there were three of us, and we were planning to stay in one area of New York City, it was cost-effective to drive to our destination.  Parking for the day, 12noon-8PM, was just $30.00.  Round-trip Metro-North train fares would've cost $10+ each, and we would still have had to pay for subway fares. Click to Compare Parking Rates.
You Might Like: