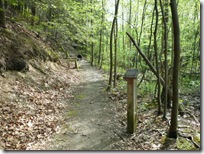 Someone had scribbled "Bridge is out!" on the entrance kiosk map, but we were curious. The Natural Areas of Albany County guide promised:
A brand new nature preserve…170 acres of protected wetland…two trails, one 1.5 miles round trip and the other 3 miles round trip…Solid wooden steps lead up the few steep slopes, with rope railings alongside…Signs identify trees and explain the wetland environment…well-made bridges over wetland…The trails are nicely cleared, without rocks and roots, and are easy to follow.
But, this guide was published in 1996, and a lot can happen in fourteen years.