Caribbean Carnival on the Fourth of July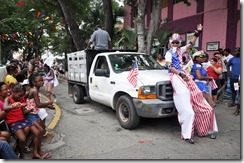 Virgin Islanders celebrate Independence Day with an exuberance that might seem decadent in more puritanical parts of the country.
The St. John Carnival festivities go on all month – musical events, village fair – culminating with a parade and fireworks on the 4th of July. It's a big celebration befitting not just the country's independence, but also the abolition of slavery with observance of Emancipation Day on July 3. Families, many returning from off-island homes for the festivities in the off-season, are reunited; and cherished traditions are kept alive.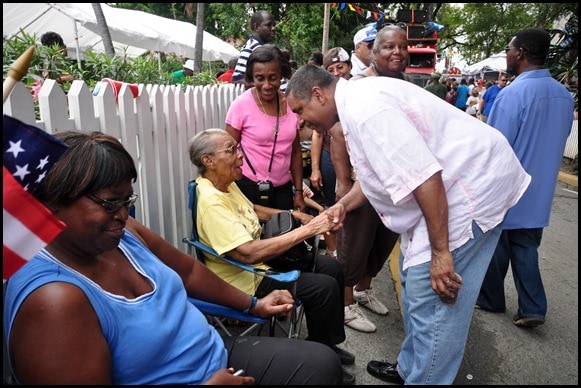 This year, I returned to my childhood home in St. Thomas, as I sometimes do in the summer, but this time, we were there in time to celebrate the Fourth of July on St. John.  And not just as spectators – my oldest child would be marching in the parade with Team SkimCaribbean's troupe.
Interestingly, the carnival theme this year was "An Astronomical and Cultural Splendor in Heaven."
Some of the festivities were decidedly not heavenly.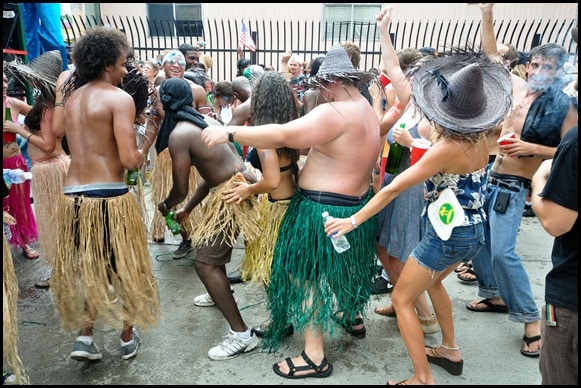 While most of the costumes were colorful and imaginative, some were skimpier than others.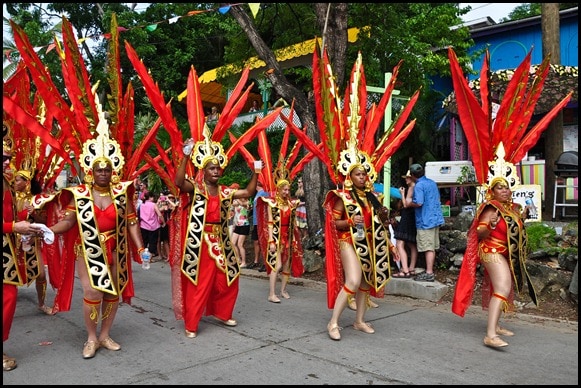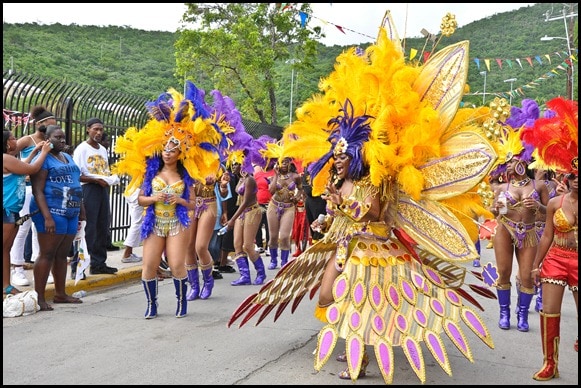 By comparison, my daughter's costume was almost tame. It also required no assembly or expense; something I can appreciate having had the exhausting experience of sewing last-minute carnival costumes in the past.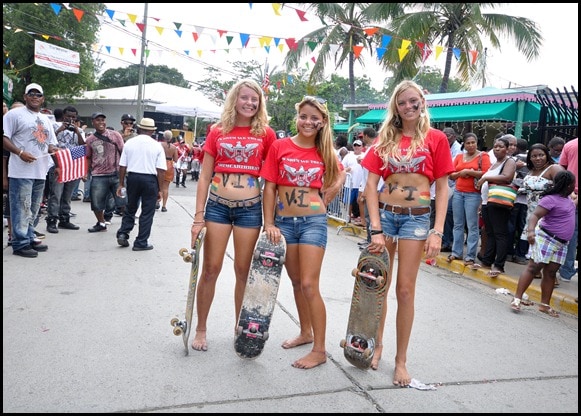 Although not an island resident, she fit right in, helping herald the troupe along with a small group who darted ahead displaying feats of great daring and dancing on skateboards.
St. John's all day parade calls for great stamina. My daughter arrived early to catch the 9 o'clock ferry from St. Thomas to St. John with the rest of the team, and then waited until 11AM to get in line for a parade that would wind through Cruz Bay streets until 4PM. It's hard to imagine how it would take so long to cover such a short distance, unless you're there to see time spent performing, chatting, fixing overheated trucks, clearing spectators off the road, and a host of other unpredictable delays.
The rest of my family didn't head over to St. John until the early afternoon. We missed seeing a few troupes, but not many as we walked from one end to the parade route to the other.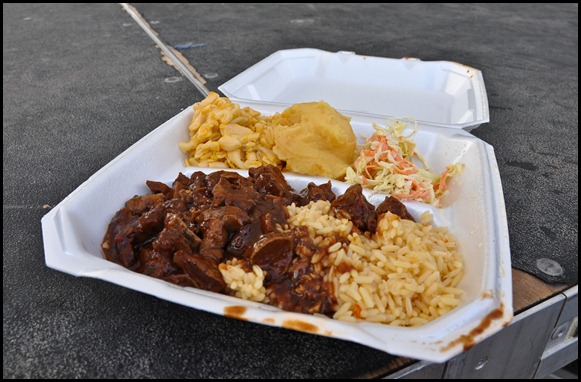 Even so, we built up a hearty appetite, easily satisfied as the Carnival Village hosted food booths offering old-time favorites – some not often seen the rest of the year: whelks, oxtail soup, callaloo, journey cake, and stew cherry (which I discovered is actually gooseberries.)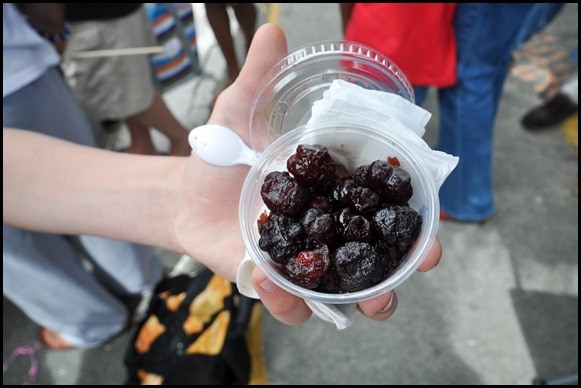 We ate well, perhaps too well. After downing hearty meals and rum-soaked libations, I wanted nothing more than a nap. By early evening, both kids had also had enough, and were more than willing to forego the 9PM fireworks.
It wasn't our usual Fourth of July celebration – no fireworks or hot dogs – but the St. John Carnival gave us a renewed appreciation for the diversity and splendor of our nation.
Virgin Islands with Kids: