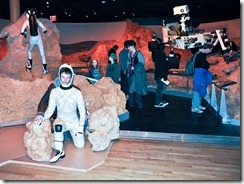 In ten years of living in New York City, I never once set foot inside the American Museum of Natural History. I see the error of my ways now, but back then, art museums and Central Park held more interest than scientific displays.
Fast forward to my parenting days, and not a year goes by that we don't end up renewing our annual membership – even though it's nearly a 3-hour drive to the museum. Between the special exhibits, family events, shows, and IMAX movies, there's always something new to experience. And it's such a huge museum that it's best not to do it all at once.
During the Winter Break last week, I took advantage of an opportunity to review the Manhattan Museum Package at the Hilton Garden Inn Times Square to take my son to see the newest exhibit,  Beyond Planet Earth: The Future of Space Exploration.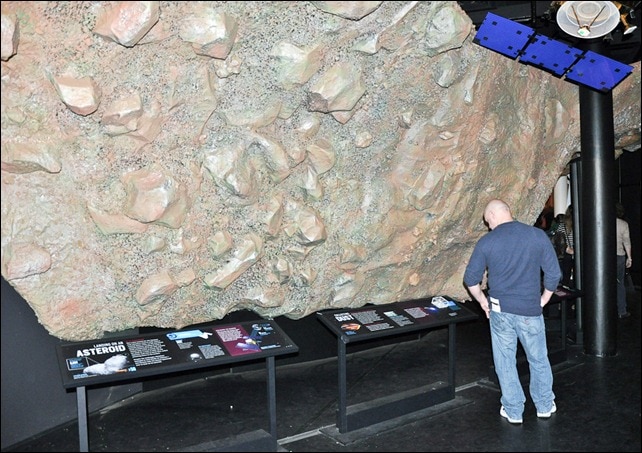 Now I can't tell you how many times my kids have rushed me along, barely giving me a chance to see the titles on the placards, much less the information. But this time, I was several displays ahead before I realized that my son was still at the entrance.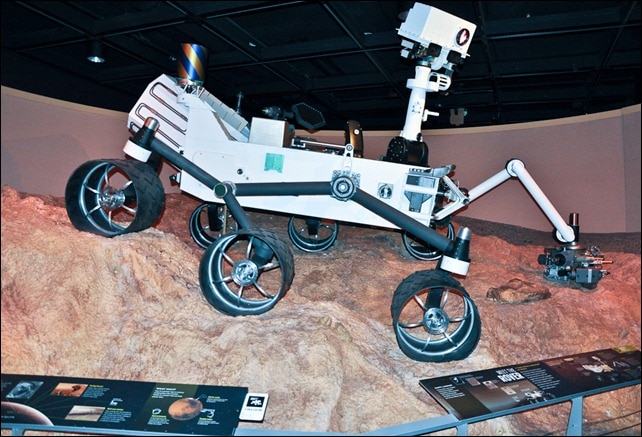 It turned out that he had figured out how to download the Beyond Planet Earth Augmented Reality app onto his iPhone, and he was determined to collect the "11 AR icons, including a Moon base, NASA's Curiosity Rover, and more, sprinkled throughout the show." This is impressively cool Star Trek-like stuff; a video gives you a sense of what it's like, but you have to try it to see how amazing the technology really is.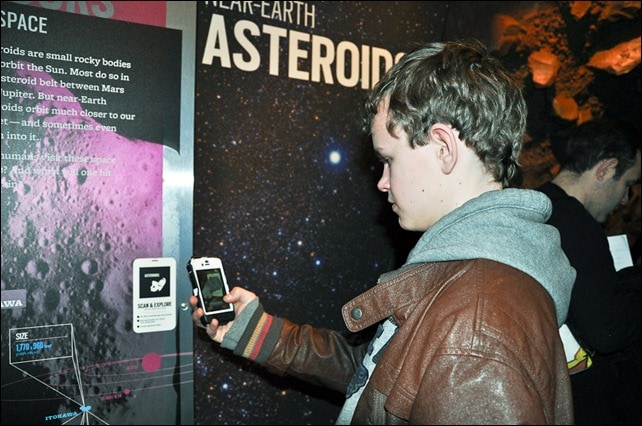 I'm not a fan of meteors or machines, and I took a pass on smelling the moon…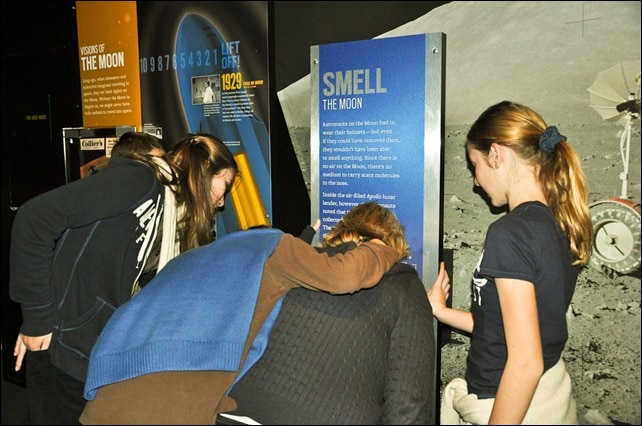 But I was intrigued by the display of shiny gold astronaut accessories…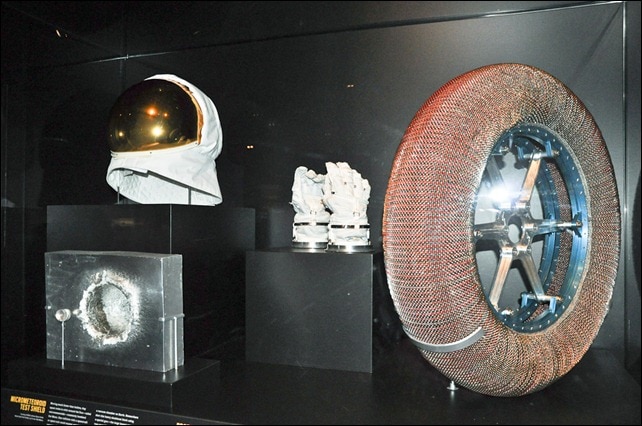 And I was very curious about the futuristic Astro wear…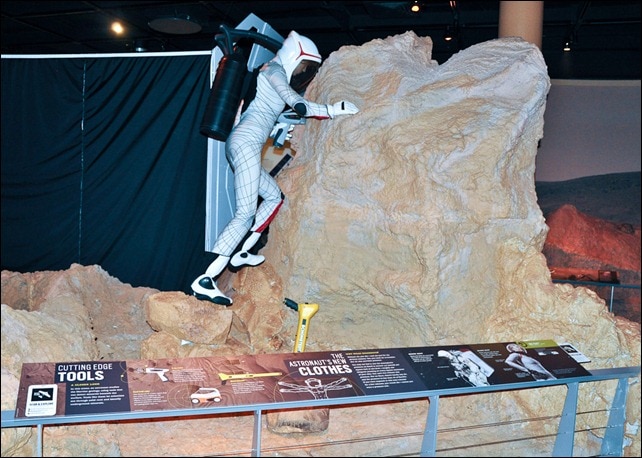 And yet my interest wasn't well and truly caught until we came to the space meals…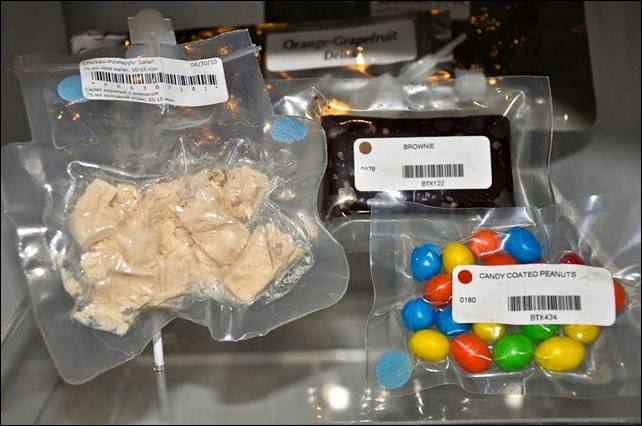 Astronaut food was something that demanded further investigation. Good thing the space science shop stocked Astronaut Ice Cream in a variety of flavors. We wouldn't want to stifle inquiring minds.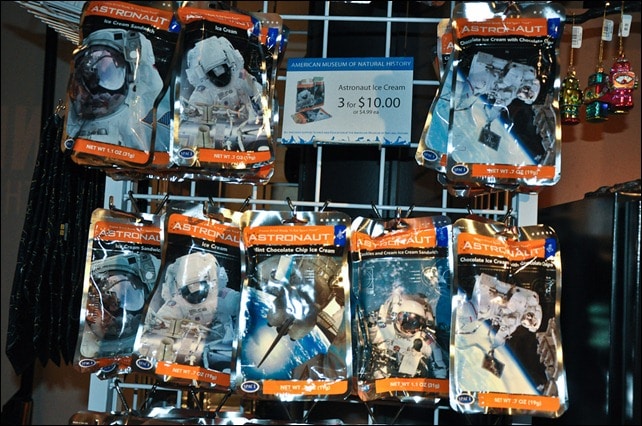 In keeping with the space theme, we followed the Beyond Planet Earth exhibit with a viewing of the all-new Space Show, Journey to the Stars. My son didn't cotton to Whoopi Goldberg's narration, but I was pleased that the immersive show was exciting enough that it kept me awake despite the comfort of cushioned chairs in a dark room.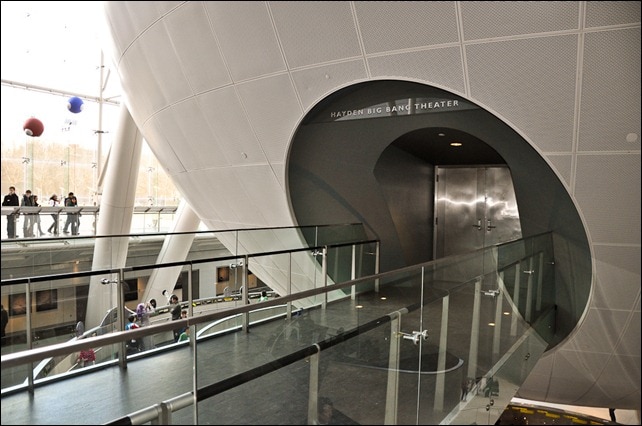 Since we were Doing Space, it made sense to finally enter the Hayden Big Bang Theater – my first time. When we were standing in line, I expected something really special. And to read the exhibit's description, you would imagine something truly spectacular:
The Big Bang, a 46-foot in diameter space, contains a central 36-foot in diameter screen over an 8-foot deep bowl that visitors gather around, standing atop plexiglass flooring that crops out over the bowl. The show utilizes a laser, dozens of lighting effects, a LED display, narration, and surround sound to immerse visitors in the imagery and energy of the early universe.
But as we left the Hayden theater, my son wondered why so much building was devoted to so little. Me too.
Go See It!
Beyond Planet Earth
American Museum of Natural History Central Park West at 79th Street, in Manhattan. Open daily from 10 a.m. to 5:45 p.m.,  Nov. 19 through Aug. 12, 2012 Visit
www.amnh.org
for additional information and to discover
Space Education Resources
.  
Disclosure: I received complimentary admission to the American Museum of Natural History (which I did not use, choosing instead to renew my annual membership.) And I also received a nights' stay at the Hilton Garden Inn Times Square for the purpose of a review. As always, my opinions are mine alone.