Area 51 – Extraterrestrials Sighted In Nevada
Our strangest trip occurred not long ago along a desolate stretch of highway, in an endlessly empty landscape marked only by the passage of bullet-ridden cattle caution signs. We had ventured into a region steeped in myth and speculation, commonly referred to as… Area 51.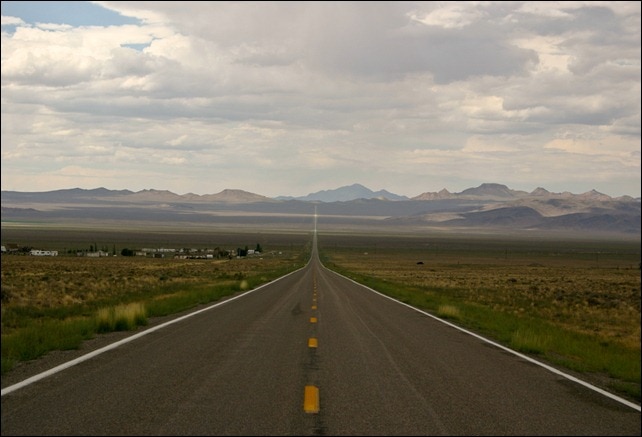 The focus of countless conspiracy theories, Area 51 is a top-secret military base and remote detachment of Edwards Air Force One that may, or may not, be involved in the cover up of UFO visits to planet Earth. Because of this and all the reported observations of UFOs and strange alien activity along this road, Nevada officially designated State Route 375 (SR 375) the Extraterrestrial Highway in 1996.
One could be pardoned for seeing things on this lonely road. The highway stretches 98 miles through through mostly unoccupied desert terrain, much of it following the northern edges of the Nevada Test and Training Range in the Mojave Desert.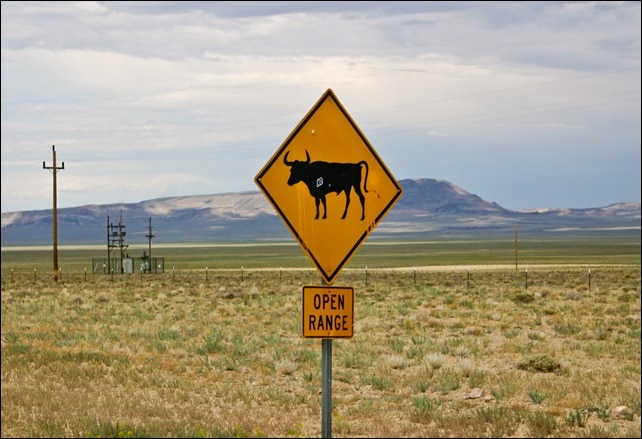 I was there with my children, then 13-year-old Kayla and 9-year-old Alex, on the return leg of our Read Across America Road Trip. That morning we had left Las Vegas in our dust, and needed to get to Ranch 71, a dude ranch near Elko, Nevada, before nightfall.
The Extraterrestrial Highway is a scary, scary road. Deserted desert, most of it void of any sign of human life. No gas stations, no Taco Bell, no traffic lights, no lights of any kinds. Just unrelenting desert brush and dunes paralleling a road on humanity's edge, where even asphalt fails to take hold on some particularly nerve-wracking segments.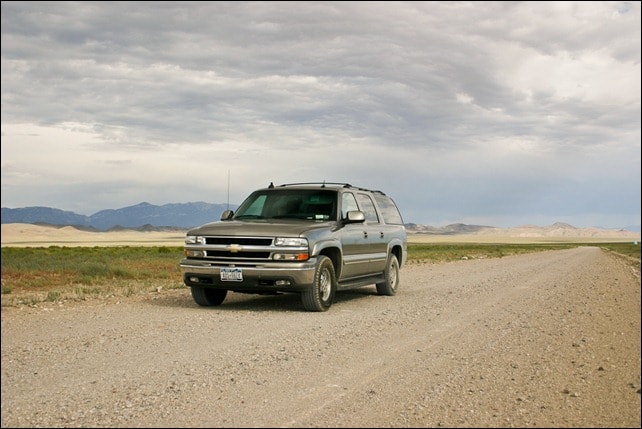 Alone on this empty highway, it was tempting to take chances. With a posted speed limit of 70 mph, more than once my daughter pointed out that I was inching past 100 mph.
It's the kind of road where the imagination wanders.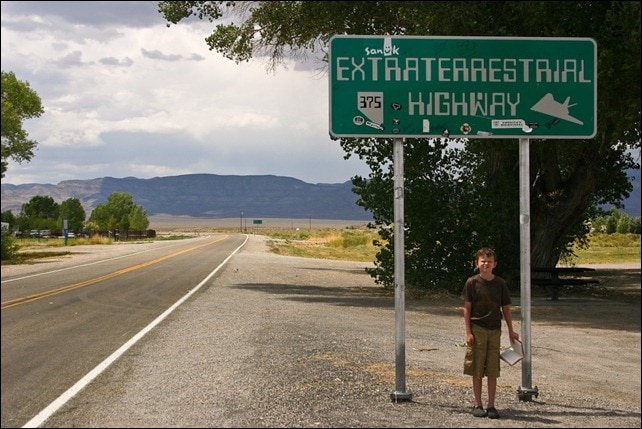 Area 51 and the Extraterrestrial Highway
The buzz around UFO sightings in Area 51 seems to stem from the accounts of one resident, Robert Scott Lazar, who claimed to have worked on the electronics of an alien spacecraft and to have seen a number of UFOs. Although his supposed work history was later shown to be false, it didn't prevent the influx of UFO enthusiasts.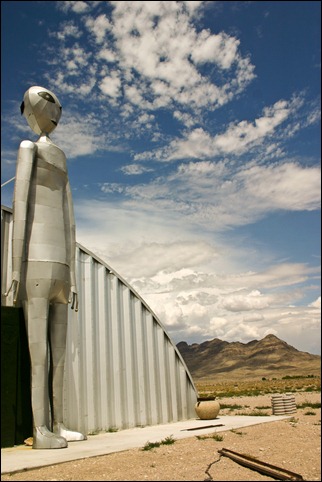 The Alien Research Center
Our first stop along the Extraterrestrial Highway was at the Alien Research Center. Wish I could tell you what goes on there. Doors were closed when we got there, and all I could see through the glass doors were alien-inspired souvenirs. Strange sounds emanated from the bowels of one of the buildings, but who knows? Could've been a cat.
A small sign at the window suggests that visiting hours are Saturdays and Sundays, 10 a.m. until 6 p.m. Maybe, maybe not. As far as I can tell, no one has ever been admitted into the Alien Research Center – willingly.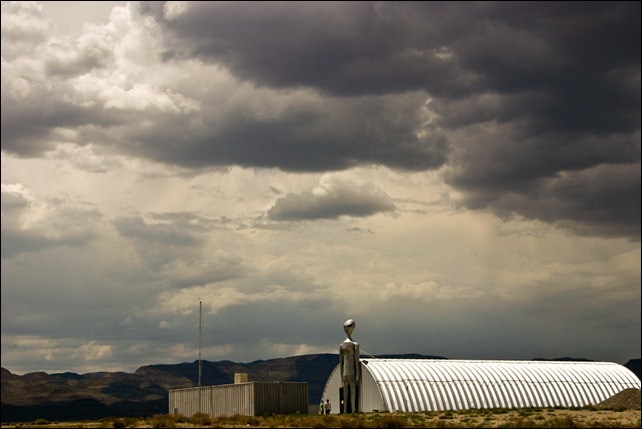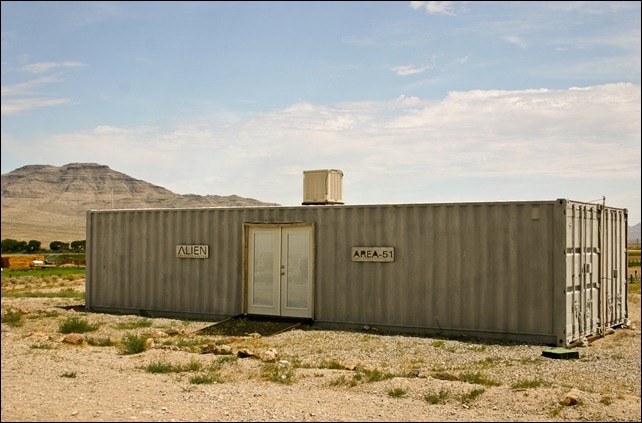 A'Le'Inn
Maybe you have to have a sense of humor to live along the Extraterrestrial Highway. Our next stop was at the A'Le'Inn –  part restaurant, part motel, and epicenter of speculation. They lived up to a reputation for good hamburgers, but while a tasty meal was a nice bonus, we were there for the atmosphere.
Watch out for Camo Dudes
I don't think anyone fears extraterrestrials in Nevada; no, the real source of concern is the secretive military testing facility. At the A'Le'Inn, locals are very reluctant to go on record about what goes on there. Even the website only hints at what could happen if you cross the air force, "There are plenty of sights to see, some close up, and others you should never cross the warning signs to see. Should you decide not to follow the signs expect a healthy (not for your wallet thought) fine, and a possible few nights in jail. Read and heed is what we ask you to do."
I heard the same thing told to this reporter, "By the time the men with machine guns reach you, they know your name, social security number, names of your family members and everything about you."
VisitArea51.com advises that if you get caught on the perimeter by Cammo Dudes –  the armed guards affectionately named for their camouflage-colored clothing – they will call the Lincoln County Sheriff's Department to arrest you and haul you away.
Visitors are advised that if the Cammo Dudes are caught on film, they can lose their job. Enough said.
I decided there and then that I had no interest in setting foot anywhere near the military bases.
Chupacabras and Other Creatures of the Desert
No, what concerned me were the very real creatures of the desert. My son happened to be reading Chupacabra and the Roswell U.F.O. which might have colored my perceptions just a bit, but there we were. Driving alone in the desert, human traces few and far between, as the sun started to set.
Rudolfo Anaya's book was a funny sci fi story about a government conspiracy, cloned chupacabras, and aliens. But still, there we were.
These desert creatures were looking at us, obviously thinking: prey or be prey?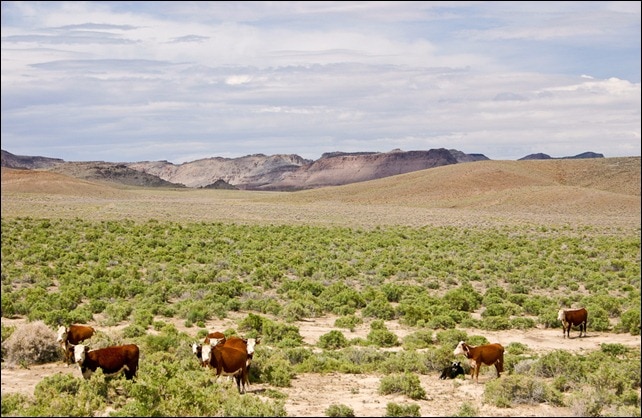 And as twilight settled in, some were fleeing. The question was: who were they running from?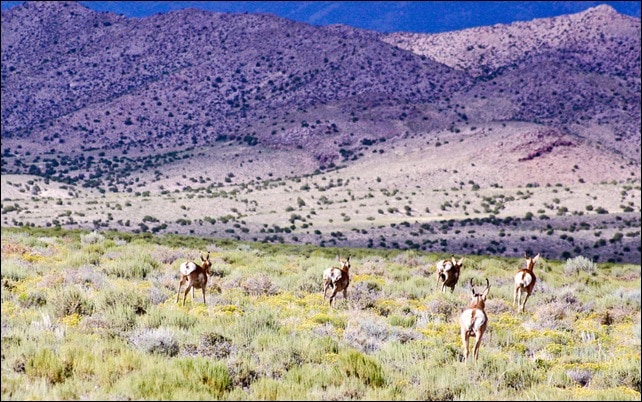 To learn more about the search for extraterrestrial intelligence, visit www.seti.org. The SETI Institute is non-profit organization whose mission is to explore, understand and explain the origin, nature and prevalence of life in the universe.
Find It!
Day Trip from Las Vegas:
We drove the Extraterrestrial Highway on our way to the 71 Ranch near Elko, Nevada. But you can also plan to visit on a day trip from Las Vegas, either by car or tour.
Alien Research Center
100 Extraterrestrial Hwy., Hiko, NV Directions: On the north side of Hwy 375/Extraterrestrial Hwy just west of its split with Hwy 318 and its intersection with US 93. Hours: Saturdays and Sundays 10am-6pm, Call to confirm. Phone: 775-725-3825  
Little A'Le'Inn
9631 Old Mill Street Rachel, Nevada 89001 (775) 729-2515 Website:
www.littlealeinn.com
Area 51 Adventure Tour
702-889-8687 or 888-363-8687
Las Vegas Limousine Service
by Adventure Photo Tours Inc.
3111 S. Valley View Blvd. Ste. X106
Las Vegas, NV 89102 – CPCN 1047
Website:
www.
adventurephototours.com/area51.htm
Safety Tips
Use caution driving in the desert. Cell reception can be spotty at best. Gas stations are few and far between. Top off fuel tanks when you can, and keep a goodly store of food, water, and blankets in your vehicle. And don't forget to let friends and family know where you are, and where and when to expect you.
Vehicle survival kits are always a good idea and all county and BLM vehicles carry some type of provisions. Some basic items include drinking water, flashlight, food/snacks, blanket or sleeping bag, first aid kit, duct tape and an assortment of tools.   Much of Nevada is designated as "open range" which means that the highways are not fenced and it's the responsibility of the driver to avoid meandering animal including deer, elk, sheep and wild horses. Livesock is free to roam across the blacktop so keep an eye out, especially at night. If possible, it's best to avoid driving long distances after dark.  
Read Across America Road Trip of 2009: