Archeology Camps In Northeast New York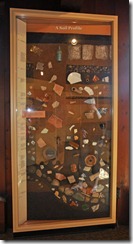 A while back a friend asked where she could find a summer camp for a child who dreams of becoming an archeologist. I remembered hearing that local museums sometimes invite students to participate in a local dig, but I didn't know where, or even if this was just a one-shot deal.
And then, I stumbled onto not one, but two, recurring archeology summer camps:  one whose deadline for registration has passed, and another that may have open spots. In the interest of having this information available the next time I'm looking for it, I'm posting them both.
Albany Archeology Field School
Join a team of professional archeologists from Hartgen Archeological Associates, Inc. as they explore Albany abolitionists Harriet and Steven Myers' former house lot.
Enrollment:  Open to all students in the Capital District entering 6th through 10th grades
in the fall. A team of only 20 junior archeologists will be invited-be sure to enroll early. 
Enrollment ends June 10, 2011.     
Cost: $250 per student.  A limited number of scholarships are available with priority for
Arbor Hill residents.  A $50 non-refundable deposit sent with the application is needed to
reserve your spot. 
Dates:  July 11-15, 2011-8AM-3PM. 
Contact:  Kathy Hughes at the Ten Broeck Mansion, 9 Ten Broeck Place, Albany, New
York 12210, Phone 518-436-9826. Email khughes.acha@verizon.net 
Website:  www.tenbroeckmansion.org  
For more information, download the Albany Archeology Field School Program.
Brookside Digs! An Archeology Experience at Brookside Museum
Dig into local history, uncovering buried remains from Brookside's historic site in Ballston Spa. "Junior archeologist" will enjoy a weeklong experience, working alongside archeologists from Hartgen Archeological Associates.
Enrollment:  Open to students in grades 5-8 (ages 10-14.)
Cost: $250 a person (a $50 deposit is due at the time of registration.)
Dates: July 25-29, 2011.
Contact: Call 518-885-4000 or email education@brooksidemuseum.org.
Website: www.brooksidemuseum.org