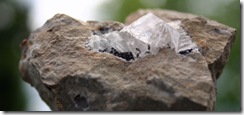 Rocks and youthful energy make for an explosive mix, and the yellow shirt crew at Herkimer Diamond Mines goes all out to make the group programs a fun and educational experience for children. There are several outings scheduled throughout the year that are tailored to Boy Scouts, Girl Scouts, or homeschoolers. With two young friends in tow, we experienced this "gem of an experience" for ourselves at the Homeschool Outing on June 7, 2010.
Families drive in from all over the Northeast for the homeschool program, one family drove all the way from Georgia; and many take advantage of the KOA Kampgrounds to make it into a vacation. We chose to do this as a day trip, heading out at 7AM and returning in time for dinner. Even though we were there all day, time seemed to fly by as we were busy every minute with learning activities and exciting discoveries.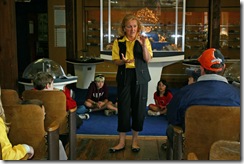 The day started with a brief introduction by Dr. Renee Shevat, President of Herkimer Mines and KOA Diamond Mines owner, who showed us how to identify Herkimer Diamonds as well as the Dolomite Matrix and Druse Crystals that are also found in the mine. After encouraging the children to respect safety at the mines for themselves and others, she turned the program over to the team in bright yellow shirts.
Each of the young, enthusiastic employees took on the task of running one of the modules: rocks and minerals, visiting the mines, analysis of finds, geodes, gem sluice, faceting and cabochoning, jewelry making, paleontology discussion, archeology dig, fossil sluicing, and environmental science. It was a very full day that ended with an Awards Ceremony where each child received a plaque and a sweet rock candy treat, and a few received a special recognition for the interest they displayed during the modules.
Photo Highlights of the Homeschool Outing at Herkimer Diamond Mines:
The highlight of the day was the visit to the mines. The kids spent an hour and a half mining in the morning, and returned for another session in the afternoon. Meanwhile, some parents were so thrilled to discover diamonds that they never left!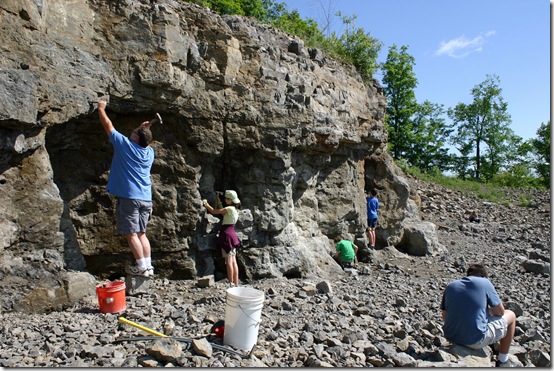 After the first visit to the mines, most of the kids had a few Herkimer diamonds that they could use for making jewelry. Those who weren't so lucky received a good sized crystal, along with the charm and necklace components.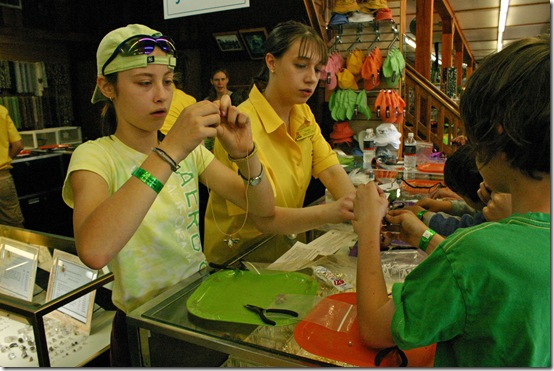 While the group was at the jewelry making station, a few kids rotated through the Cabochoning station where they learned about rock hardness levels and the industrial uses for faceting stone.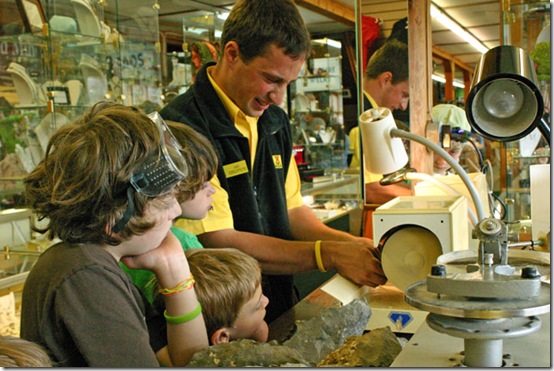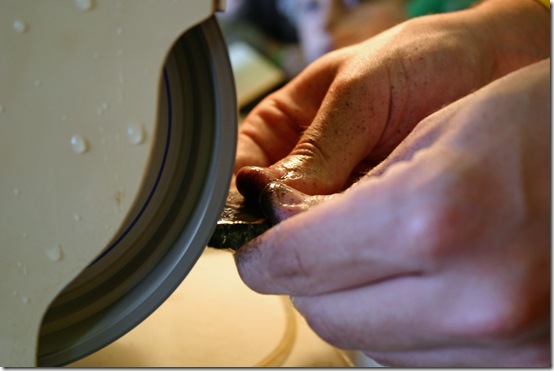 Later, in the Paleontology module, we discovered how to identify stromatolite, the fossil of an asparagus-like plant that is also commonly found in these mines but the discussion centered mostly around "Randy," the Herkimer Diamond Mines' very own dinosaur skull from Madagascar.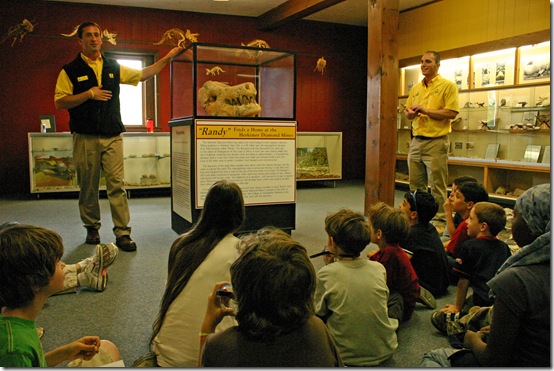 Some of the rock "finds" weren't indigenous. Each child received a geode from Mexico that they could smash open with a sledgehammer.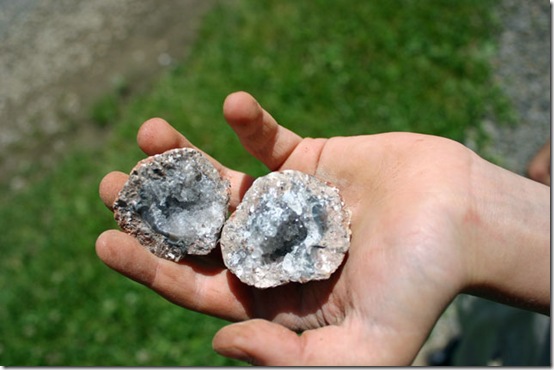 They also visited the sluicing station twice, once for gems and once for fossils. Neither bag contained local materials, but the kids didn't care.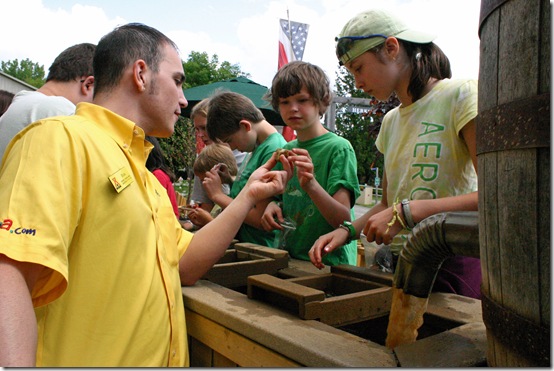 A new feature at Herkimer Diamond Mines is found across the street at the KOA Kampgrounds, where the Environmental Science module took us on a tour of the new Solar Lodge and sustainable gardens.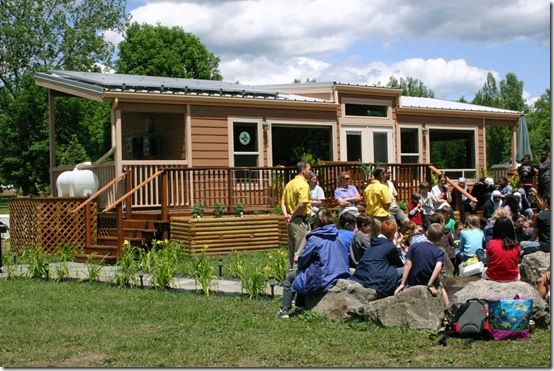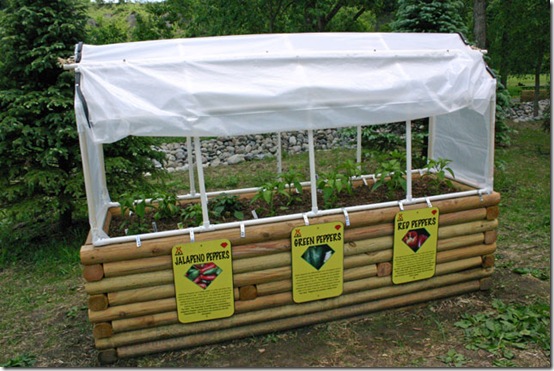 Packing List:
We didn't pack any food as we had ordered lunch, and bottled water and snacks were provided. Also, we didn't need to pack tools as hammers are provided, and everyone receives a new pair of goggles to keep. However, I recommend bringing the following items:
Sun Protection (Hat, long sleeves, sun screen)
Gloves (Garden gloves are ideal for digging in the rocks.)
Chisel & Masonry Hammer (for breaking off rock from the mine wall)
Bucket (A small Ziploc bag is provided for the tiny diamonds, but a bucket is better for hauling large rocks.)
Sharpie pen (To identify Ziploc bags.)
Camp chair (For parents who are supervising, but not mining.)
Resource List:
Dig This! Mine Your Own Gems – Lists gem mining sites in Upstate NY.
Herkimer History – Excellent collection of photos for identifying Herkimer diamond mine specimens, including druze crystals and host rock. The website also includes ongoing Herkimer Diamond Research with a list of research project that need to be done, and opportunities for community help (including a standing request for photos.)
Contact Information:
Herkimer Diamond Mines
4601 State Route 28
Herkimer, NY 13350
315.717.0175 (weekdays)
or 315.891.7355 (weekends & evenings)
Email: diamonds@ntcnet.com For more information, visit the website at www.herkimerdiamond.com.