A Family Visit to Mark Twain's Hometown in Hannibal, MO Is an Adventure of the Imagination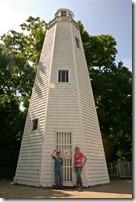 One of the best reasons for family travel is to broaden a child's horizons. Combine travel with a good story, and amazing things happen.
In the few weeks that my kids and I undertook the Read Across America Road Trip of 2009, my son developed several career ambitions: architect, geologist, paleontologist, and/or cowboy.  To this day, we see the impact in his interests and in the stories that he tells.
If nothing else, storybook travel served to expand the boundaries of his (and my) imagination.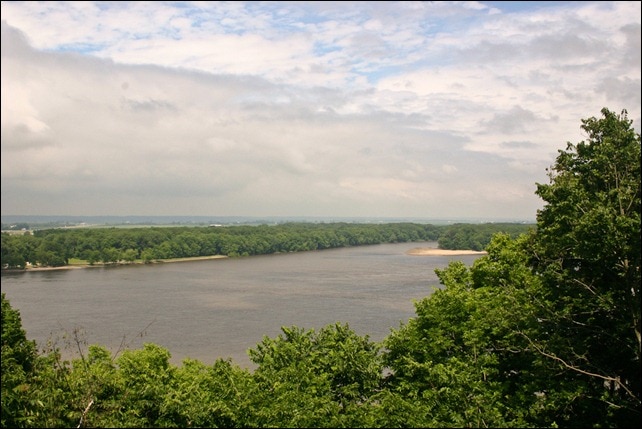 Camping By Huckleberry Finn's River
Since we were reading (or listening to) The Adventures of Tom Sawyer and Huckleberry Finn, two classic American stories that enliven a US road trip, it seemed only fitting to stop in Hannibal, Missouri –  Mark Twain's boyhood hometown.
Hannibal is a small town, easily seen in a day; but I wanted to experience it as the fictional characters might have done (if they had access to LL Bean and electronic gadgets)  – camping by the Mississippi River.
Lured by ads for go carts and  batting cage, the kids chose the Injun Joe Campground over the Mark Twain Campground, but it wasn't long before we came to regret this decision.  Although these "fun" amenities were available, we never touched the dirty and rusty playthings.  Even worse, as we headed into the camp lots, we started to question the transient nature of accommodations that seemed to be more trailer park than campground.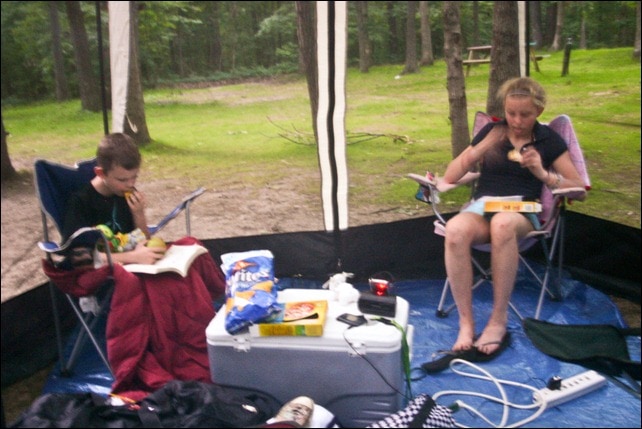 Setting up our tent, we were fairly happy with our new home.  We had found a spot far from RVs that looked like they had long forgotten the feel of the open road; and with judicious placement of tents, we were able to ignore the litter on our site.  That first night, we relaxed in our commodious screened-in room, and listened to Tom Sawyer on audiobook.
On that first night, we woke to the sounds of torrential rains.  It poured, and continued to pour throughout the day and into the following night.  Our gear was saturated with red Mississippi River mud that promised to be a reminder of our trip for a long time to come.
This camping trip failed to live up to dreams of reliving an early American experience, but at least my children got a lesson in discerning travel planning. And we would have many more camping trips that summer for more primeval experiences.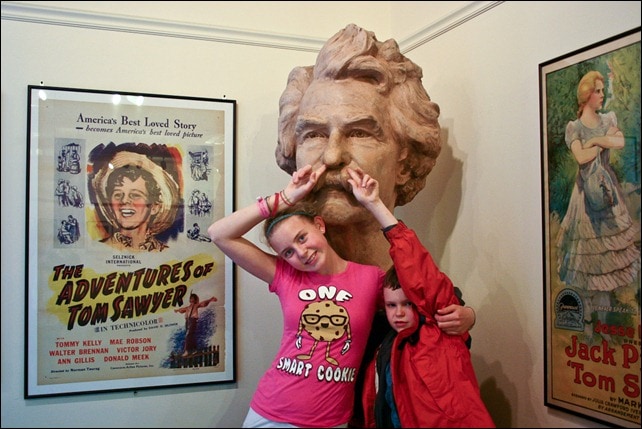 Exploring Mark Twain's Boyhood Home
The rest of our visit to Hannibal, MO exceeded all expectations.
I could have stayed all day just in Mark Twain's Boyhood Home and the Interpretive Center. But my kids weren't as eager to read every plaque as I. They preferred playing through the exhibits related to Mark Twain's stories in the Children's Museum.
Fair warning – it's hard to avoid the gift shop, and even harder to avoid leaving with dangerous toys for boys and girls.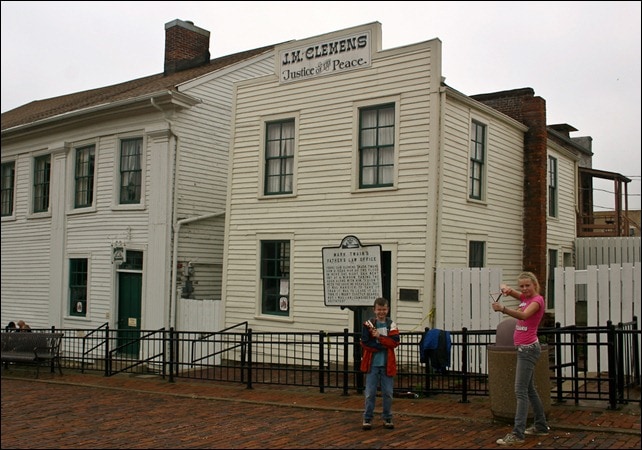 Some children may even learn lessons that we might prefer that they never learn; for instance, how to avoid chores and punishments.  Here's the "real" Tom Sawyer fence: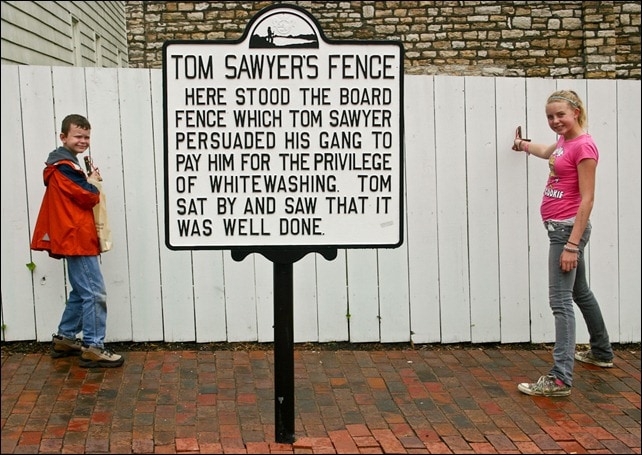 And another in the Children's Museum: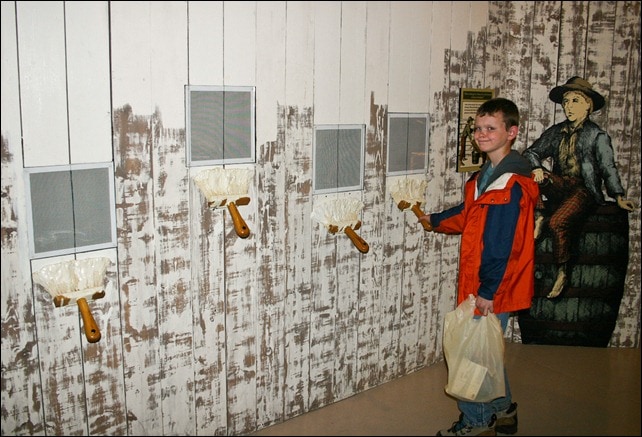 As Kayla explains,
Tom needed to use a lot of imagination to achieve the things that he did throughout the book.  Who would ever have thought of turning a chore to paint a fence into a profitable opportunity. And the robbery thing, pure imagination.
We missed one of the most popular Hannibal, MO attractions, the steamboat ride, due to our timing, but we walked over for a closer look anyway.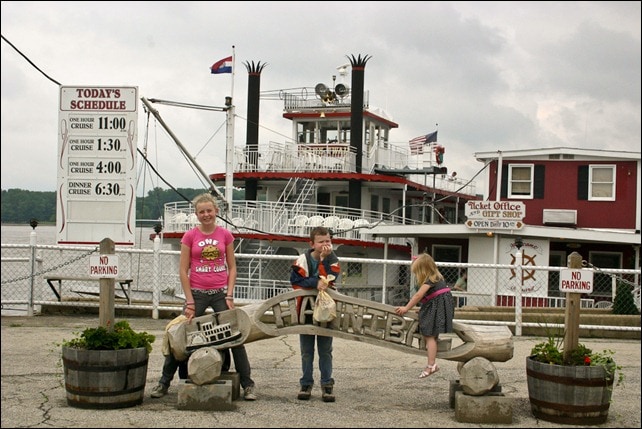 Another decision I came to regret as only extreme good luck prevented another close encounter with the Mississippi River.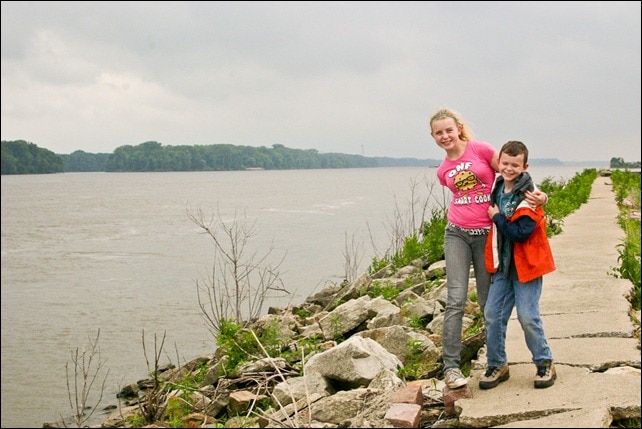 Treasure Hunt at Mark Twain's Cave
Our favorite attraction in Hannibal, MO was the Mark Twain Cave.  We've explored more geologically exciting caverns, but this one comes with a doozy of a story.  Not only do you get the full Tom Sawyer tour which illustrates the tale of Injun Joe, described here by Kayla in her travel journal,
Tom Sawyer and Huck Finn are in a cemetery at 12pm one night.  When they see people coming, they duck behind a cave stone.  They watch as Injun Joe kills a man.  A few weeks later, Tom rats out Injun Joe to the court during a trial.  Injun Joe escapes while Tom is giving his testimony.  Huck and Tom spy on Injun Joe and notice that he has a large sum of money that he is trying to hide.  One day, when Tom and his girlfriend, Becky are in a cave, they get lost.  Tom comes across Injun Joe who is hiding in the cave.  When Tom and Becky finally get out a few days later, they discover that Injun Joe died in the cave.  Huck and Tom go back into the cave, and find the money that Injun Joe hid.  They split the money in half, and have a handsome sum of $6,000.00 each.
The cave tour gets even more interesting when you learn about the real-life inhabitants, including Jesse James' hideout and the doctor who stored a dead child.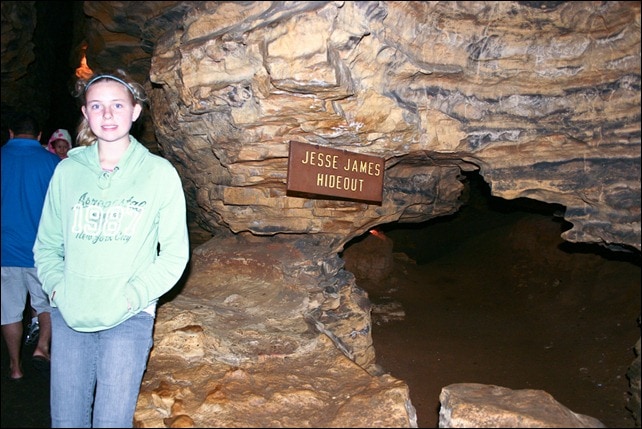 Alex was just mesmerized by the cave, and the prospect of treasure.  For that day, at least, he planned to grow up to be a geologist.  He donned his miner's hat, and went in search of underground treasure.  Although he had to leave Injun Joe's treasure on sight, he was thrilled to discover and keep a piece of "pure" limestone.  It might look like glass to some, but to the creative mind, it was a gem.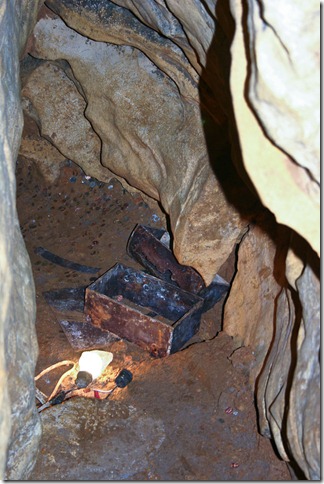 There comes a time in every rightly-constructed boy's life when he has a raging desire to go somewhere and dig for hidden treasure.  Mark Twain, Wit and Wisecracks.
Foodie Adventure in Hannibal, MO
After a long day of mischief in Hannibal, MO that included learning the art of the con at Mark Twain's Boyhood Home, searching for treasure in caves, and climbing Cardiff Hill to spot pirates, the kids and I were famished.
A good thing, too, as we needed hearty appetites to tackle a heaping stack of Southern fried chicken and the infamous Mississippi Mud Malt at the Mark Twain Dinette.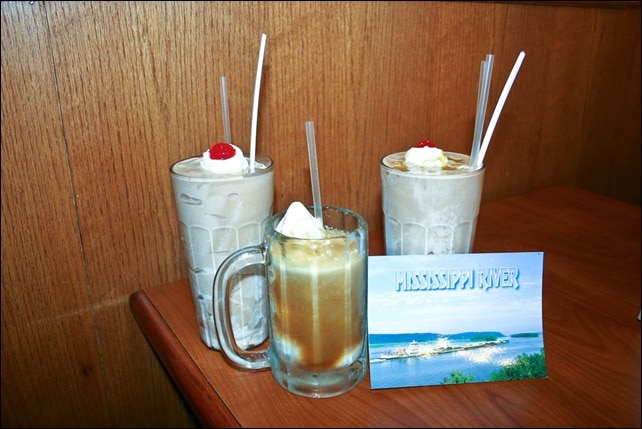 If you would like to know what Alex had to say about our visit to Mark Twain's hometown, read his Review of Tom Sawyer and Huck Finn.
Go See It!
If we had more time in Hannibal, MO, there are a number of other area attractions well worth a look-see. I have listed a few below, but do visit the Hannibal, Missouri website at www.visithannibal.com for more recommendations.
The Mark Twain Cave Complex

MO Hwy 79 South • 300 Cave Hollow Rd • 573-221-1656
www.marktwaincave.com
Mark Twain Boyhood Home and Museum Properties
208 Hill Street • 573-221-9010 •
www.marktwainmuseum.org
Mark Twain Mississippi Riverboat
Center Street Landing • 573-221-3222 •
www.marktwainriverboat.com
Mark Twain Dinette & Family Restaurant
400 N. 3rd St. (Hwy.79) • (573) 221-5511• www.marktwaindinette.com
Read Across America Road Trip of 2009: