The last day of ski season might not be the best time to blaze new trails, but it was a good time to explore new-to-me Stowe Mountain Resort.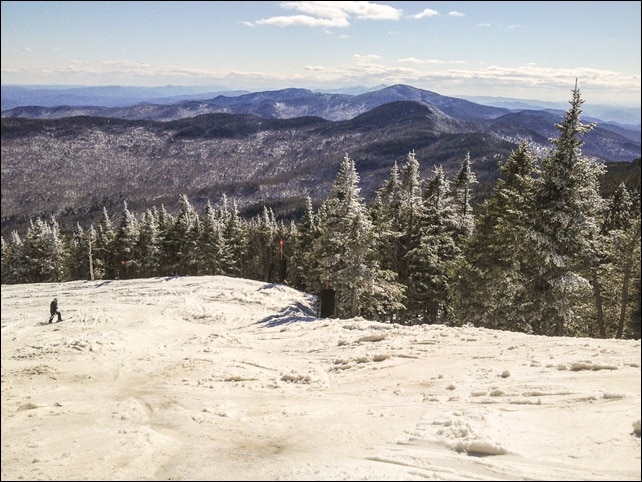 It didn't take long to realize that I wasn't up to the challenge of skiing in spring conditions. While the ski racers of the family were having a blast, I was terrified to gain speed not knowing when I might run into slush, rocks, or worse. After just one extremely long run from the top of Mount Mansfield, I was ready to call it quits.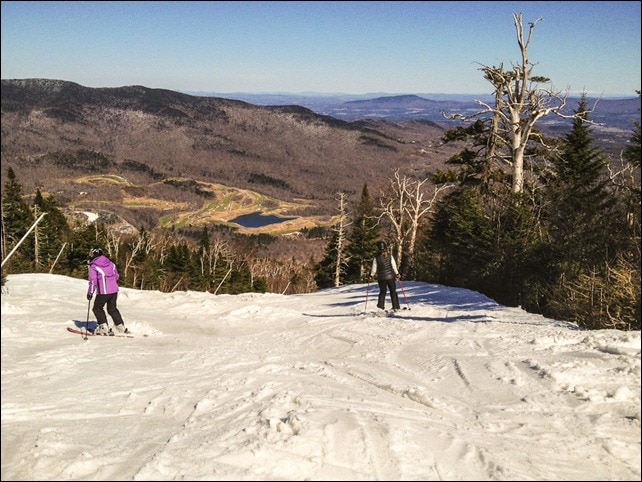 Plus, there was plenty to do elsewhere on the mountain. Skiers-in-the-know came in their craziest outfits to send off the season with as much fanfare as possible. And, because this is Vermont after all, maple syrup was a star attraction.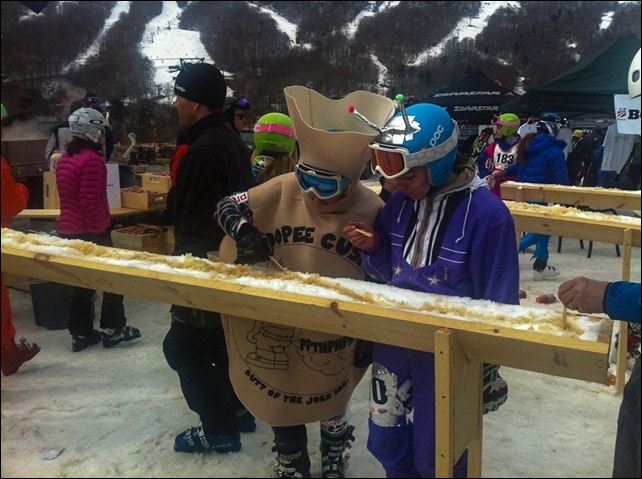 Believe me, there is no graceful way to ladle maple syrup from a bed of snow on troughs – not with tongue depressors. But the kids didn't care, nor the grown-ups either.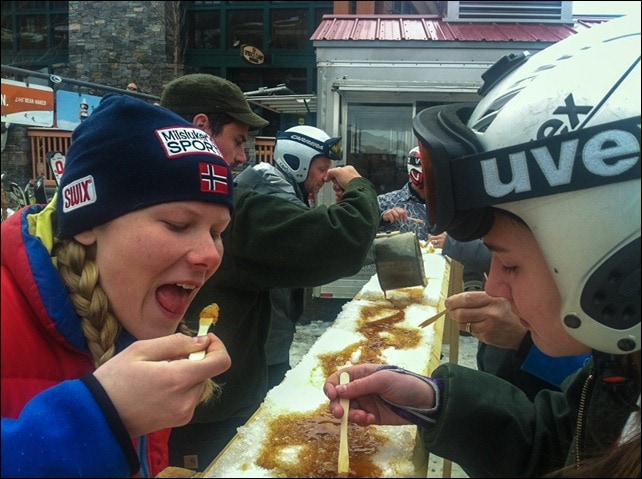 Since I was counting points on Weightwatchers, I skipped the maple troughs. But I couldn't resist the cunningly placed S'mores station.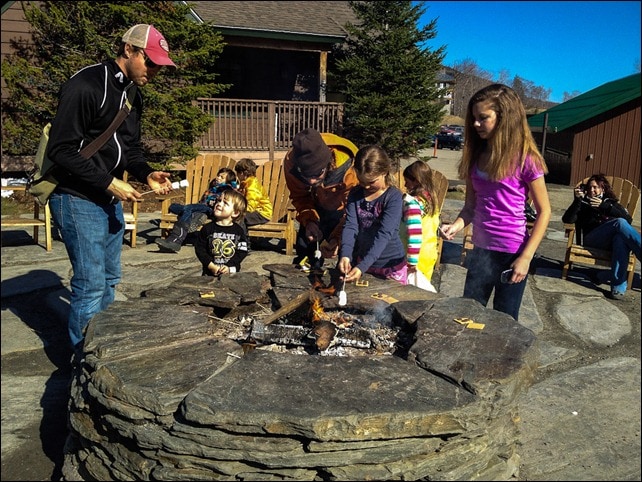 The teen racers practically moved in, helping down any potential surplus of marshmallows.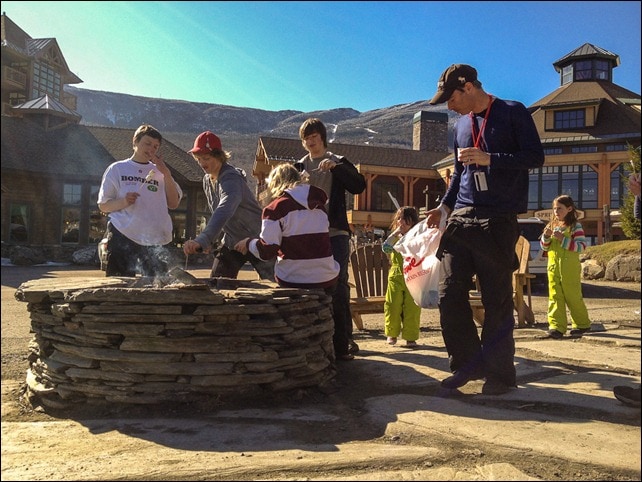 Meanwhile, I moved on to more pressing matters – test driving a Mercedes Benz GL 350. I always think of the Subaru as the official car of Vermont, but in an interesting twist, Mercedes Benz is the "official car of Stowe Mountain Resort."
For the month of March, and again in July, visitors can sign up on weekends to test drive one of several Mercedes Benz models from the Spruce Peak start point to the Toll House base area and back. It's a short 4-mile drive, and the reward is two complimentary lift tickets in winter (or golf course admission in summer.)
I signed up not even knowing about the compensation, just because the winding mountain road seemed like a fun place to take the luxury car for a whirl. Some friends told me not to bother, that the Mercedes Benz line has been slipping lately. But the GL 350 handled like a dream. Very quiet, very responsive. Maybe a little too smooth and quiet, it was hard to keep under the speed limit.
My only quibble is that the gear shift was hard to figure out initially. Once I drove for a few minutes, it came naturally enough. But at first, I couldn't figure out how to get it into Drive or Reverse.
A week later, I received an email from Keeler Motor Car Company in Latham, NY thanking me for spending time with Mercedes Benz at Stowe Mountain, and offering $500 off the next purchase or lease of a new Mercedes-Benz vehicle.
Tempting, but I politely declined…for now.
Find It!
Stowe Mountain Resort
5781 Mountain Road  Stowe, VT 05672
(802) 253-3000 Website: 
www.stowe.com
Keeler Motor Car Company
1111 Troy Schenectady Road  Latham, NY 12110
(518) 785-4197
You Might Like:
Sandra Foyt | Sandra Foyt is a storyteller, photographer, and road trip junkie. A veteran of six cross-country road trips, she drove Route 66, the Lincoln Highway, the fossil freeway, the extraterrestrial highway, and even "the loneliest road in America." Find her on GetawayMavens.com, an award-winning destination guide to extraordinary travel in and from Northeast USA, on her portfolio site at SandraFoyt.com, and in freelance gigs on Family Travel 411, Minitime, Huffington Post, and Matador Network. Email: sandrafoyt@albanykid.com, Twitter @SandraFoyt.