Take a look at past television specials, new animated shorts, and possibly win a brand new Blu-Ray/DVD
Raise your hand if you grew up watching Rudolph the Red-Nosed Reindeer, A Charlie Brown Christmas, and How the Grinch Stole Christmas. What about Frosty the Snowman? Yes? ME TOO!
Now, raise your hands if you a) obsessively scan the program guide for these shows every year; b) set your VCR to record them "just in case"; or c) bought the video tape, DVD, and now Blu Ray even though you know they will be shown at least once for free on television.
Christmas memories mean that much to us, especially when shared with our children and grandchildren. December is the longest month when Santa is expected and curling up on the couch with Mom, Dad and a bowl of popcorn can slow it down enough for at least one evening. These old tv shows are more than 30 or 60 minutes of animation, they are an evening of escape into a world where Christmas is always magical and those who believe can change everything.
Christmas Cartoons From Yesterday
Rudolph the Red-Nosed Reindeer has aired every year since 1964 and introduced kids to a new concept: misfit toys. Think of it, not only are people not always perfect, but sometimes toys as well. In the show of course people are represented by Rudolph, odd because of his red nose, and Hermey the Elf, odd because he wants to be a dentist instead of a toymaker. This is a great lesson for younger children. Santa says it's ok to play with toys that may not be exactly what you wanted. And, of course, the main misfit saves Christmas by using his bright red nose to guide Santa's sleigh through a snowstorm!
In 1965, A Charlie Brown Christmas came out, and everyone was reminded what Christmas is all about. The comparison of Charlie Brown's poor little tree with one ornament leaning over, almost bowing, to Snoopy's over-the-top mega decorated dog house really brings it home. Unfortunately, just a drive down the street still shows more Snoopy dog houses than Charlie Brown Christmas trees. This show also boasts the best soundtrack of all Christmas television specials, A Charlie Brown Christmas, by jazz composer Vince Guaraldi. It continues to be a best seller, year after year.
The following year two imaginative overgrown children got together to create another reminder of the true meaning of Christmas. Chuck Jones, of Looney Tunes fame, and Theodore Geisel, aka Dr Seuss, animated Seuss' book How the Grinch Stole Christmas. Christmas doesn't come wrapped up with beautiful ribbons and bows, and all the Whos in Whoville are going to have Christmas despite all the meanness in the world. We all know Grinches. Put the difficulty in knowing them aside, at least for a little while, and they might just surprise you.
Frosty the Snowman is another perennial favorite that can be a bit hard to watch. It's so sad! Frosty melts! And Karen cries! And that magician is so mean! Trying to get that hat back when he knows it's the only thing keeping Frosty alive. But through the power of friendship, and a bit of Santa's magic, Frosty is brought back to life to live happily at the North Pole. And of course, visit Karen every Christmas. Frosty the Snowman was animated so as to give the show the look and feel of a Christmas card come to life, much like Frosty himself.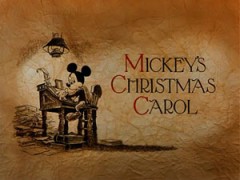 In 1983 Disney got into the act with the first original Mickey Mouse theatrical cartoon in 30 years. Nominated for an Academy Award for Best Animated Short Film, Mickey's Christmas Carol is an adaptation of Dickens' novella A Christmas Carol. Who better to portray Ebenezer than his namesake, Scrooge McDuck? Of course, the world famous mouse played Bob Cratchit and Donald Duck was cast as Scrooge's nephew. Many other Disney creations found there way into the film. Best casting? Jiminy Cricket as the Ghost of Christmas Past.
Christmas Cartoons From Today
Most of today's favorite Christmas specials are based on today's favorite movies. Why not? Who doesn't love to see familiar characters getting into hilarious holiday hijinks?
In Shrek the Halls Shrek and Fiona are married and settled down, with a brood of bouncing baby ogres, but Shrek, never planning on being a family man, needs "Christmas for Village Idiots" to know how to decorate and make it the best Christmas ever. Of course, this isn't Happily Ever After, it's The Swamp! and every thing Shrek tries to do is "ruined" by his friends Donkey, Puss and Gingy. Shrek and friends all learn that there is no perfect Christmas without imperfect friends after a stress relieving snowball fight.
What would happen if Santa was shot down in Madagascar and then got amnesia? Find out in Merry Madagascar, with Alex the lion, Marty the zebra, Gloria the hippo and Melman, the world's only hypochondriac giraffe. Joined again by dancing lemurs ruled over by King Julian and some Delta Force Penguins, The crazy foursome of ex-zoo animals take off to deliver all the presents, leaving Santa – voiced by the amazing Carl Reiner – on Madagascar crafting toys for all the lemurs.
New on DVD/Blu-Ray this year is Ice Age: A Mammoth Christmas. The gang has to save Christmas after Sid destroys Santa's workshop trying to get off the naughty list. Who knew Santa has been around since pre-historic times?
Win your own DVD/Blu-Ray copy of Ice Age: A Mammoth Christmas
We have one copy of Ice Age: A Mammoth Christmas available for one lucky Albany Kid reader! And, as always, it's easier as pie to win.
I know I've left a lot of great animated Christmas and Holiday specials out, tell us your favorite in a comment below, and that counts as one entry.
For another entry, go to the Albany Kid on Facebook to say hello. Just leave us a little note on our "status" and then post a comment to tell us.
A third way to enter is to subscribe to Albany Kid through email (and post a comment down below).
A fourth way is to subscribe to the Albany Kid RSS feed (and post a comment down below).
And lastly, Tweet about Albany Kid and this giveaway and leave a comment – do you sense a common theme yet?.
You can enter any of the five ways, or all five ways, but you must post a comment for each entry to count. That is how I count up the entries!
Contest starts today December 4, 2011 as soon as you read this and ends at 11:59 EST on December 11, 2011. You have one whole week! I will select the winner using random.org so everyone has an equal chance to win, and then contact you via e-mail as well as announcing the winner here on the Albany Kid blog and our Facebook page. You will have 48 hours to claim the prize. If there is no response, another winner has to be selected. Sorry, them's the breaks. Giveaway is open to US residents only who are 18 years of age or older.
You Might Also Like:
Disclosure: I will receive a copy of Ice Age: A Mammoth Christmas for review purposes. No other compensation was given and the opinions in this post are solely mine and are based on my experience with all the specials and my own Christmas past.
Cie McCullough Buschle | Cie McCullough Buschle lives with her dog Einstein and a cat named Burton Guster. She is a lifelong traveler and enjoys researching history through holidays, toys, and everyday objects. Cie is a sculptor and co-owns The Creative Chameleon, a place where kids and adults can create, paint, celebrate, and just have a lot of fun. Sometimes you can find her time traveling back to the Middle Ages as part of the Society for Creative Anachronism.