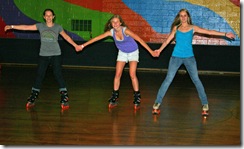 Pouring rain killed our plans to return to the Adirondack Extreme Adventure Course for another go at the ziplines.  A few diehards were going the course anyway, but the combination of cold and wet rain dampened our enthusiasm. (Sorry, couldn't resist the pun!)
Instead, we headed to the indoor Fun Spot, in the nearby Lake George area, because it offered "excitement for all ages."  When we got there, it seemed promising.  The bouncy bounce megalopolis next to the roller skating floor is an interesting juxtaposition, but my group of teens and tweens thought it was "cool."  They had to watch out for preschoolers, but the combination of slides, tunnels, and bouncy room gave them plenty of room to spread out.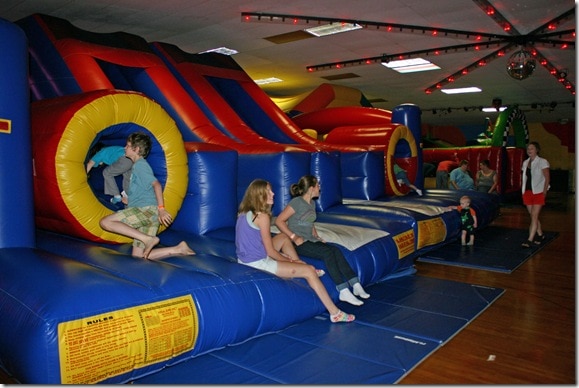 They had the laser tag field completely to themselves, but I gathered that it didn't live up to the standards set at Zero Gravity in Albany.  According to my son, the Fun Spot laser field was much smaller and the guns are disappointing because they don't carry limitless charge and ammunition.  Also, he thinks it's more fun to play in a setting with more competitors.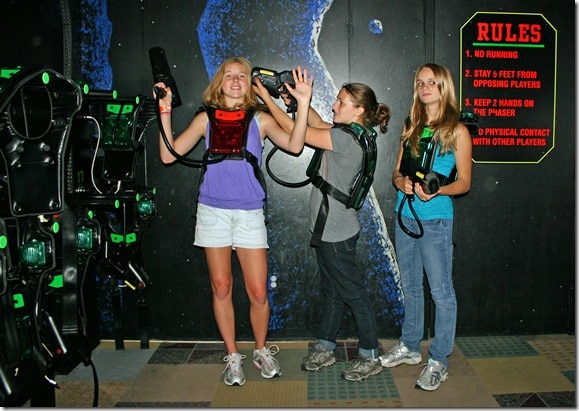 Afterwards, we donned our inline skate rentals to whip around the dance floor.  In this case, an empty arena was a good thing as it gave us plenty of room to practice our dance moves.  Okay, it was just me, the middle aged mom, dancing.  And then, skating was halted for a Four Squares group game.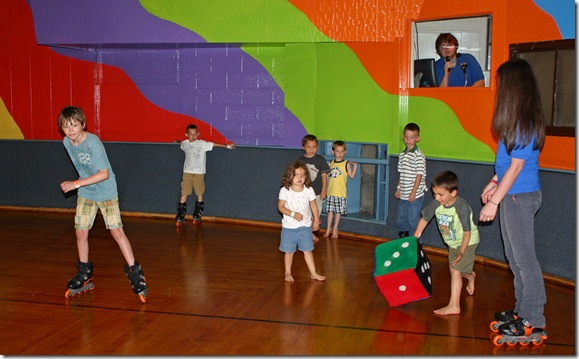 I think my teens could've put up with all of these atrocities if it wasn't for the final insult, a huge influx of Justin Beiber fans, swarming to roller dance to the pulsating disco-lighted sounds of their idol.
My teens had had enough of The Fun Spot excitement.
Maybe at another time of day, or when the go karts and mini-golf are available, The Fun Spot might be worth a return visit.  It just wasn't an adequate substitute for an Adirondack Extreme adventure.
Where To Go:
1035 Route 9
QueeNsbury, NY 12894
(518) 792-8989
Related Articles:
Sandra Foyt | Sandra Foyt is a storyteller, photographer, and road trip junkie. A veteran of six cross-country road trips, she drove Route 66, the Lincoln Highway, the fossil freeway, the extraterrestrial highway, and even "the loneliest road in America." Find her on GetawayMavens.com, an award-winning destination guide to extraordinary travel in and from Northeast USA, on her portfolio site at SandraFoyt.com, and in freelance gigs on Family Travel 411, Minitime, Huffington Post, and Matador Network. Email: sandrafoyt@albanykid.com, Twitter @SandraFoyt.